Back to search results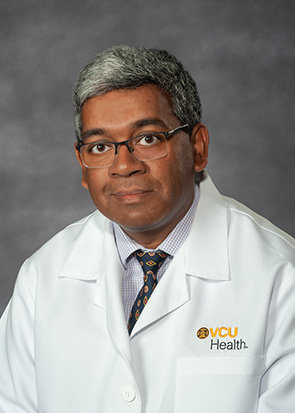 Vinay Kumaran, MBBS, MS, M Ch.
Education
Medical School
Maulana Azad Medical College
Internship
Maulana Azad Medical College
Residency
Maulana Azad Medical College
Fellowship
University of Pittsburgh Medical Center
Biography
Vinay Kumaran, M.D.
Passionately blending drive and knowledge for advancements living-donor transplantation
Dr. Vinay Kumaran was born in Bhopal, India and raised in Delhi, where he went on to study at one of the highest-rated medical schools in India, Maulana Azad Medical College. Fellowship trained in multi-organ transplantation, Dr. Kumaran served as Director of Liver Transplant at Delhi's Sir Ganga Ram Hospital, where he was involved in many first-of-its-kind procedures in India, such as a dual-lobe living donor liver transplant, a combined liver and kidney living donor transplant, a living donor intestinal transplant, and others.
In 2013, he moved to Kokilaben Dhirubhai Ambani Hospital in Mumbai to set up a new liver transplant program, which soon became the first high-volume living-donor liver transplant program in Western India.
Today, he is a transplant surgeon at VCU Medical Center with an affinity for living-donor liver transplantation and treating liver diseases. He also performs kidney and pancreas transplants, as well as other forms of liver surgeries. Dr. Kumaran brings a wide range of experience and knowledge of the complex living-donor transplantation procedure to America, where the technique is less common compared to India.
"I have always been fascinated by the liver, and its ability to perform so many vital functions that man has yet to create a machine replacement for," says the associate professor of Transplant Surgery at VCU Health, who in his career has performed more than 800 living-donor transplants. "Surgery on the liver is very technically challenging, but that makes success all the more rewarding."
In addition to transplantation, Dr. Kumaran treats patients with liver disease, cancer of the liver, gallbladder, bile ducts, and other cancers that spread to the liver from other organs. He provides care to patients enduring dialysis or are living with insulin-dependent diabetes and kidney failure. He is passionate about working with patients in complex health circumstances and being able to improve their quality of life through patience, perseverance and skillful surgical techniques.
Dr. Kumaran patiently listens to his patients' concerns and answers their questions without watching the clock. From newborns to seniors, the author of Techniques of Liver Surgery is dedicated to beating liver conditions with a systematic and persistent approach to prevention and treatment. In addition to surgical treatment, Dr. Kumaran looks at the bigger picture, and is involved in research regarding hepatocyte transplantation, liver regeneration, and finding a way to get patients off immunosuppressive medicines, which have harsh, long-term side effects. His research has been published in numerous medical journals.
When he's not in the operating room or research lab, Dr. Kumaran enjoys the outdoors, sci-fi novels and spending time with his family, as well as exploring new places (and cuisines).