The Park at Snowden
Address:
321 Park Hill Drive
Fredericksburg,VA 22401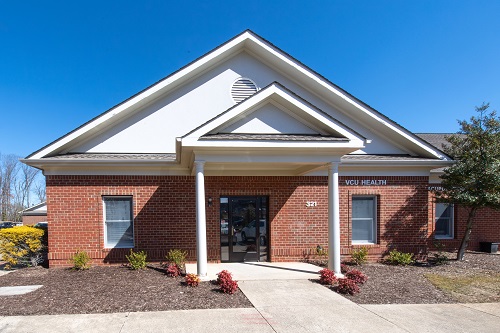 Convenient Access to Care, Close to Home
We offer pre- and post-surgery care and minor procedures on-site for many conditions
Bringing you access to convenient, safe and specialized care is our priority. That's why we opened The Park at Snowden, a new multispecialty clinic in Fredericksburg. Our new location makes it easier than ever for you to get the care you need close to home.
Our nationally recognized teams offer highly specialized board-certified care to residents of Fredericksburg and surrounding counties, including Spotsylvania, Stafford, Caroline, Prince George and beyond. Whether you face a complex condition, require a minor procedure or are seeking a multidisciplinary transplant consultation, you have access to cutting-edge technologies and expertise all available from VCU Health – right here.
Our services
We bring together providers from different specialties – all under one roof. These convenient services meet the growing needs of our communities. At The Park at Snowden you'll find high-quality health care and superior patient outcomes that are made possible by our top-tier physicians and surgeons and our award-winning nursing staff. We offer patients minimally invasive treatment options with surgeries scheduled at VCU Medical Center in Richmond. Diagnostic services available on-site include: anoscopy, cystoscopy, urinalysis, hemorrhoid treatment, colorectal cancer screening and more. We offer pre- and post-surgery care for the following specialties:
What makes us unique
Caring and compassion. Resilience and dedication. Expertise, innovation and discovery. Our teams at The Park at Snowden are part of an award-winning health system dedicated to advancing care and bringing comprehensive, compassionate services where and when you need it most.
With nationally ranked services in several adult and pediatric specialties, VCU Medical Center is recognized as high performing by U.S. News & World Report for cardiology and heart surgery, cancer and urology — you'll find the services you need right here.
Take a virtual tour and hear from Dr. Jaime Bohl, Medical Director at The Park at Snowden.
Find a Provider at The Park at Snowden
Schedule an Appointment
Call the specialty you need
Bariatric Surgery
(804) 827-0045
Cardiac Surgery
(804) 828-2774
Colon and Rectal Surgery
(804) 827-0049
Heart Failure
(804) 628-1180
Hepatology
(804) 828-4060
Surgical Oncology
(804) 628-3111
Transplant Surgery
(540) 891-1122
Urology
(804) 828-9331