Back to search results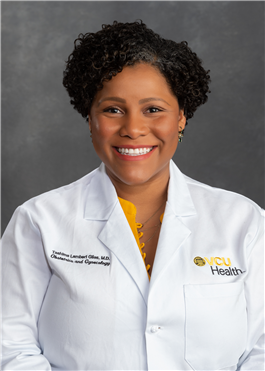 Tashima Lambert Giles, MD
Obstetrics and Gynecology
Education
Medical School
Lewis Katz School of Medicine at Temple University
Residency
Duke University School of Medicine
Biography
Becoming an OB/GYN 'was the only area of care for me'
Working with patients during the most intimate moments of their lives is an honor for Dr. Tashima Lambert Giles, whose efforts to provide the best patient care are matched only by her drive to make sure that care reaches as many people as possible.
As a board-certified OB/GYN, Dr. Giles specializes in routine, preventative care for the female reproductive system – from birth control management to cervical cancer screening, as well as treatment for disorders such as sexually transmitted diseases or uterine fibroids. Within the realm of obstetrics, she works with patients before, during and after pregnancy, "to manage their labor and delivery all while trying to honor their expectations for this process with the goal of a healthy outcome for both parent and baby," she says.
Dr. Giles attended the Lewis Katz School of Medicine at Temple University and completed her residency at the Duke University School of Medicine. She chose gynecology and obstetrics because those areas afforded her opportunities for both preventative and reactive patient care, she says. As an OB/GYN, "we are entrusted with the most intimate moments and sensitive areas in the lives of our patients," she says. "The honor of that responsibility made this area of care the only one for me."
Dr. Giles is passionate about her work, but equally as passionate about increasing the diversity among students, residents and faculty with the VCU Health. She seeks to widen educational opportunities to reach as many minority learners as possible, creating a more inclusive, diverse workforce that truly represents the Richmond community. Those efforts work in tandem with her efforts to improve access to quality care for patients from underrepresented populations. Her patient population spans the uninsured and underinsured, to colleagues and even those who lead the medical system.
Her chosen field offer immense rewards but also challenges. Reproductive rights frequently make headlines when they collide with politics and cultural norms, she notes.
"The intersection of reproductive rights with political restraints and societal judgement – these sectors at times clash with my ability to offer patients the care they need or want," Dr. Giles says.
But being successful means listening to the patient, and then advocating for their care in ways that meet those needs. Part of that mission means empowering patients to own their health by encouraging them to ask questions until they are confident about their care.
"Our job as doctors is not to lead you blindly down our desired path," Giles says, "but to be sure each patient clearly understands what is happening to their body and what can be done about it."
That, and a willingness to continue learning and adjusting her practice to reflect the most advanced medical knowledge.
"I hope my patients believe that we are a team when approaching their health," Dr. Giles says. "I want them to feel listened to, to feel educated, and to make informed decisions about their care."