Back to search results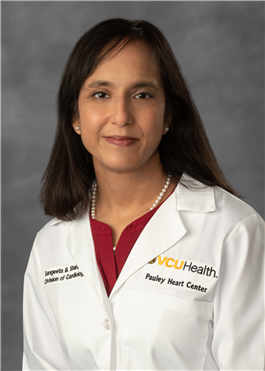 Sangeeta Shah, MD, FACC, FASE
Cardiovascular Disease
Cardiology
Adult Congenital Heart Disease
Education
Medical School
Louisiana State University Medical Center
Internship
Ochsner Clinic Foundation
Residency
Internal Medicine, Ochsner Medical Center
Fellowship
University of South Florida
Fellowship
University of Texas Medical Branch
Fellowship
Georgetown University
Biography
Personalized care for adults with heart defects since childhood
Congenital heart defects develop before birth and are consequently most often associated with children. But the treatment of congenital heart disease doesn't stop at the end of childhood.
Adults born with structural defects in the heart must continue to manage their health throughout their lives. And that's where Dr. Sangeeta Shah has dedicated her medical training and career: Caring for grown-ups who have previously undergone childhood heart surgery or other cardiac procedures and those born with syndromes associated with heart defects.
As the Adult Congenital Heart Association notes, the condition "is survivable, manageable, yet in the routine years between infancy and adulthood, sometimes forgettable." Many adults delay care, which can lead to complications, which can be managed and prevented with routine follow-ups.
"Currently, there are more adults than there are children with congenital heart disease because of the amazing care by pediatric surgeons and cardiologist," says Dr. Shah, the newest director of the VCU Health Pauley Heart Center Adult Congenital Heart Disease (ACHD) program, established in 2020. "It is important for patients to learn about their heart history so they can be an advocate for themselves."
Dr. Shah advises any patients to reach out to the program if they were born with a heart defect with or without symptoms. The program is also available to help with discussion of pregnancy to better understand risk to your baby and heart. "Or, perhaps you have a loved one who wants you to check to make sure your heart is okay," Dr. Shah says. "That's what we are here for."
It is equally as important, she notes, that ACHD patients see a provider specifically trained to care for those over 18 with the condition (which is rare, and diagnosed in fewer than 200,000 infants or fetuses each year). Dr. Shah's vision is to create the first accredited adult congenital heart disease program in Virginia. Such designation, accredited through the Adult Congenital Heart Association, can enhance the standard of care to meet the needs of the growing ACHD population in this relatively new medical field.
Pauley Heart Center is Virginia's top-ranked hospital for cardiology and heart care, and offers the full spectrum of clinical cardiac services, from consultation to treatment of the most complex conditions, among them congenital heart disease. Though Pauley's affiliation with VCU Health, the Center offers the most advanced levels of clinical expertise required to care for ACHD patients, including imaging, stress testing, electrophysiology, cardiac catheterization, an advanced heart failure program, and surgical procedures.
Dr. Shah comes to Richmond via her hometown of New Orleans, where she led the adult congenital heart disease program at Ochsner Medical Center. On top of her Cardiovascular imaging specialty in cardiology, she has additional training in ACHD care from MedStar Washington Hospital Center-Children's National. Dr. Shah has authored several articles for ACHD, lobbied on Capitol Hill to advocate for the appropriate care of adults living with the condition, and was featured as one New Orleans Magazine's Best Doctors. She is a fellow of the American College of Cardiology and American Society of Echocardiography.
If you are an adult born with a congenital heart defect and want more information on the condition, Dr. Shah recommends you visit:
Research Interests: Imaging and exercise testing to improve outcomes in ACHD patients; Complications of patient with Levo-Transposition of the Great Arteries (L-TGA) and Dextro-Transposition of the Great Arteries or (d-TGA) with atrial switch; Pregnancy and Congenital heart disease.
Clinical Interests
Adult Congenital Heart Disease; Echocardiography; Cardiac MRI