Back to search results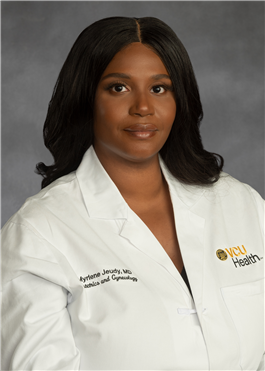 Myrlene Jeudy, MD
Obstetrics and Gynecology
Women's Health
Education
Medical School
University of Massachusetts Medical School
Residency
Boston Medical Center
Fellowship
University of Michigan Health System
Biography
An OB/GYN who listens — and wants you to know you're heard.
Whether a routine OB/GYN visit or a more complex patient case, Dr. Myrlene Jeudy's approach is the same: Listen, and allow individuals to be heard.
"I want my patients to feel special when they walk into my office — to know I truly care and want to help them with their health care goals. I want every person to know that they are heard and that their voice matters," she says.
Most of Dr. Jeudy's time is spent treating people of all ages as a board-certified OB/GYN (obstetrics and gynecology). Every day and patient is different: she may see a pregnant person, perform an operation, treat periods and menopausal concerns, or help with family planning. "I have built relationships with my patients and feel privilege that they choose to trust me with their fears, goals, intimate aspects of their lives — and celebrations," she says.
Dr. Jeudy returned to VCU Health in 2021 after a brief time in Georgia. "I rejoined VCU because of my passion and dedication to teaching – both students, and patients," she says. "In every patient encounter, I try to take my time and provide the patient with the education and resources that they need to make an informed decision regarding their care."
In her role as a professor in the VCU Department of Obstetrics and Gynecology, she teaches and trains future OB/GYNs to carry on her work. "I believe I will have a greater impact on people in our society by being a part of the education of future physicians," Dr. Jeudy says. "As the only academic OB/GYN department in the Richmond region, we are dedicated not only to excellent care, but to educating providers and advancing research."
Dr. Jeudy was first introduced to the field of obstetrics and gynecology in Cameroon, Africa. There, she worked with an OB/GYN at the University Teaching Hospital of Yaoundé. "I saw firsthand the impact he had for the people in his community," she says. "He connected me to other providers with special interests in women's health. It was inspiring for me to see how providers who looked like me make such a significant impact in the lives of individuals in their community."
And lest we forget one of the true joys of being an OB/GYN: helping bring a new life into the world.
"I truly love taking care of women during their pregnancies and delivering their babies. Prenatal visits with new parents are still one of my favorites!" she says. "After all these years and deliveries, I still find great joy when patients choose me to be a part of their birth experience."
Specialized focus on breast health and women's cancers
In addition to general obstetrics and gynecology, Dr. Jeudy has specialized training in cancer genetics and breast health, and treats women who are at an elevated risk of breast or ovarian cancer. That includes discovering harmful variants of the BRCA1 and BRCA2 genes, which put women at higher risk of breast and ovarian cancers.
"I also came to VCU to enhance the breast health program here," she says. "We all know cancer survivors do better with early detection. I specifically want to use my background to educate and capture women in our community who are at elevated risk, with the hope that we can improve the gap in breast cancer health disparities, particularly in low-income and minority communities."
As an example, she wants to use telemedicine and electronic records to develop risk-assessment tools, provide education, and "reach a broader group of women than we ever could before."
For those women who are diagnosed with cancer, she works closely with oncologists and cancer specialists to ease the gynecologic side effects of treatment, including safety of pregnancy, hormonal therapies, chemotherapy or treatment-induced menopause, vaginal dryness, sexual dysfunction, and surgeries.
Advice to Patients: "It is important to be in a health care system that you feel is patient and family-centered and always trying to improve. VCU Health is such a place. Communication is so important. I want patients to feel empowered to communicate their healthcare goals and experiences at their visits. I want patients to know that all their voices are powerful. I want to encourage them to continue their voices to improve their patient care experience in our health care system."
Research interests: Enhancing identification of women at increased risk for breast cancer and educating women regarding options for preventing breast cancer. Also focused on cancer health disparities.