Back to search results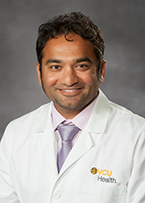 Keyur B Shah, MD
Locations
Education
Medical School
University of Pittsburgh School of Medicine
Internship
University of Maryland Medical System
Residency
University of Maryland Medical System
Fellowship
University of Maryland Medical System
Biography
Dr. Keyur Shah joined VCU Health Pauley Heart Center in 2009 and is the Chief of the Section of Heart Failure. He specializes in Advanced Heart Failure and Heart Transplantation. His clinical expertise includes heart transplantation, amyloid cardiomyopathy and mechanical circulatory support and he serves as the Medical Director of the Mechanical Circulatory Support Program. He is invested in creating a safe, high quality clinical care environment as the Medical Director for the Heart Failure Navigator Program which ensures the safe transition of patients from hospital to home.
Dr. Shah is a Richmond native and received his bachelor's degree in economics from the University of Virginia. He earned his medical degree from the University of Pittsburgh Medical Center in Pittsburgh, Penn. Dr. Shah completed both his residency in internal medicine and fellowship in cardiology at the University of Maryland in Baltimore, Md. He was awarded the Nathan H. Carliner, M.D. Scholar Award in recognition of outstanding scholarly activity during fellowship.
Dr. Shah's research interests include cardiac amyloidosis, ventricular assist devices and the total artificial heart. He actively conducts numerous clinic trials in the fields of heart transplantation, heart failure and mechanical assist devices. He has authored numerous research papers and book chapters, which have been published in highly respected medical journals including the Archives of Internal Medicine, Circulation, and Journal of the American College of Cardiology.
Dr. Shah is a Fellow of American College of Cardiology and volunteers time to lead councils in the International Society of Heart and Lung Transplantation. He is on the editorial board for the Journal of Heart and Lung Transplantation.
Clinical Interests
Heart Failure; Cardiology; Heart Transplantation; Pulmonary Hypertension; Mechanical Circulatory Support Devices