William & Mary
Address:
332 N. Henry St.
Williamsburg,VA 23185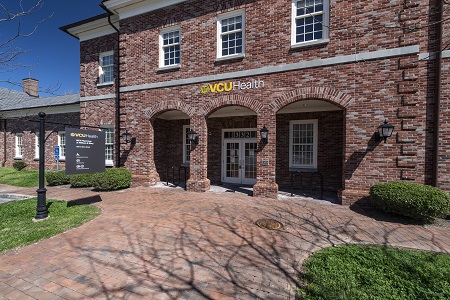 Orthopaedic and Other Specialty Services
VCU Health and William & Mary team up to offer care close to campus
Your health is our priority. Whether you're a college student, a faculty member, a parent or a community member, we're making it easier than ever for you to access the care you need close to home.
We specialize in helping you stay healthy at every life stage, from adolescence to young adulthood all the way through retirement. You can access the care you need – right here in Williamsburg, within walking distance to the William & Mary campus.
Our new location brings together providers from different specialties — all under one roof. You'll find specialists in sports medicine, orthopaedics, physical medicine and rehabilitation, behavioral health and more. We also offer the convenience of on-site imaging and laboratory services. These expanded services meet the growing needs of the university community and the greater Williamsburg area.
The entrance to our parking lot is located at 401 N. Boundary St.
Free parking is available on-site
Care from us is now conveniently located with ample free parking in downtown Williamsburg. The entrance to our parking lot if located at 401 N. Boundary St.
Same day appointments are available for orthopaedic injury.
Call (757) 220-1246 to make an appointment.
Our services
Behavioral Health
Heart Care
Hepatology
Imaging
Lab Services
Orthopaedics
Physical Medicine & Rehabilitation
Sports Medicine
Surgical Oncology
Transplant
Specialty services to treat the whole you
If you need specialty services, you can now find the care you need right here. We offer comprehensive services under one roof, including:
Chronic disease management for complex medical conditions, including heart disease
Heart health assessments and risk reduction care
Hepatology
Medication management
Mental health counseling and behavioral health services
Orthopaedic and sports medicine services
Surgical services for cancer treatment

Transplant evaluation and follow-up care
Learn more about additional, exclusive services for faculty and staff.
Convenient orthopaedic, sports medicine and rehabilitation services
Are you a college athlete, a weekend warrior, or just beginning an exercise program? Our new Williamsburg location offers complete orthopaedic and sports medicine care to address pain, stiffness, fractures, torn ligaments and more. Our expert team of medical and surgical specialists works together with our rehabilitation team to bring you the latest imaging technology, minimally invasive approaches, and recovery services to help you get back to feeling better quickly.
We treat sports and orthopaedic conditions that affect the back and neck, elbow and shoulder, foot and ankle, hand and wrist, hip and knee and head–such as concussions. You can count on our team to diagnose and treat a full range of orthopaedic conditions.
We offer complete care, including:
Cartilage repair
Injection therapy
Ligament injury repair
Nonsurgical sports medicine care
Orthopaedic and sports imaging
Orthopaedic rehabilitation
Pre- and post-surgical services
Splints, casts and braces