Back to search results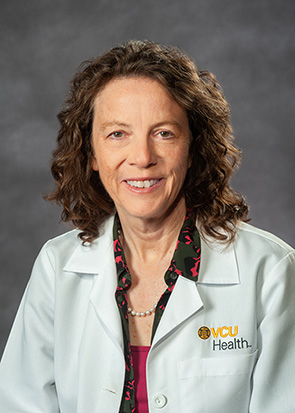 Kathryn Holloway, MD
Education
Medical School
Rutgers University
Residency
VCU Medical Center
Fellowship
National Institutes of Health
Biography
An international innovator in neurosurgery — right here in Richmond
Dr. Kathryn Holloway is an internationally recognized, board-certified neurosurgeon who has dedicated her life's work to treating movement disorders through surgery. Patients worldwide have benefitted from the work of Dr. Holloway, who treats debilitating conditions such as Parkinson's Disease, essential tremor, dystonia, epilepsy and others using delicate surgical procedures.
"Most patients will come to me after being diagnosed and treated by a neurologist, and when medications haven't worked or are causing unacceptable side effects," says Dr. Holloway. "While it is unfortunate that a person gets to a point where they need to see me, I am honored to be the person they trust to get them better."
After a patient undergoes a multidisciplinary evaluation for surgery candidacy by a team specializing in movement disorders or epilepsy, Dr. Holloway may move forward with surgery. She is an expert in minimally invasive options such as laser surgery, which minimizes scarring and reduces healing time; deep brain stimulation (DBS), which restores balance to circuits in the brain; Stereoelectroencephalography (SEEG) for seizure detection; and responsive neurostimulation, which detects and treats seizures as they arise in the brain. In addition, she performs minimally invasive surgery for carpal tunnel syndrome.
She is a global innovator in deep brain stimulation (DBS) surgery, which implants tiny electrodes within the brain and is today used to treat Parkinson's, essential tremor and other neurological disorders. She led a team in the late 1990s dedicated to understanding — and perfecting — DBS. During these defining clinical trials, Dr. Holloway partnered with medical device firm Medtronic to create a new surgical tool (the frameless stereotactic approach) for the procedure — resulting in improved patient comfort, equivalent accuracy and reduced surgery time. She serves as the program director of VCU Health's Deep Brain Stimulation program and Medtronic has ranked Dr. Holloway one of the busiest surgeons in the nation for DBS. Neurosurgeons have visited Virginia from as far as New Zealand to observe her in the operating room.
Modern neurology has brought Dr. Holloway and her colleagues an increase in the number of conditions that can be treated through surgery, including patients who had no options before. VCU Health is recognized as a Center of Excellence for treatment of movement disorders, and is classified as a Level 4 Epilepsy Center — a designation indicating the highest level of care in the country.
"For many patients today, we can provide incredible improvements to their life through surgery," she says. "Getting to see and be a part of that experience reminds me why I became a surgeon in the first place."
Clinical Interests
Movement Disorders; Deep Brain Stimulation; Peripheral Nerve