Back to search results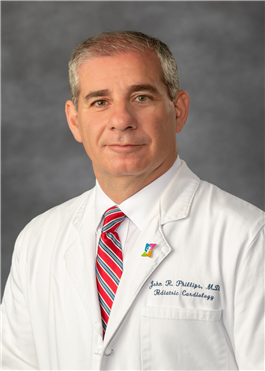 John R Phillips, MD
Pediatric Cardiology
Pediatric Electrophysiology
Education
Education
The Pennsylvania State University College of Medicine, Hershey, PA
Residency
Children's Hospital of The King's Daughters, Norfolk, VA
Fellowship
Nationwide Children's Hospital, Columbus, OH
Fellowship
Pediatric Electrophysiology Fellowship, Cook Children's Hospital, Fort Worth, TX
Biography
Dr. Phillips is a member of Pediatric and Congenital Electrophysiology Society (PACES), Heart Rhythm Society (HRS) and Section of Cardiology and Cardiac Surgery for AAP, as well as a fellow with the American Academy of Pediatrics (AAP). He has held various positions throughout his career such as Medical Director for West Virginia Affiliate of ProjectADAM, member of PACES Finance Committee and treasurer of the Mountain Heart Foundation.
Prior to joining CHoR, Dr. Phillips served as Division Chief of Pediatric Cardiology, WVU Medicine Children's Hospital from 2013-2020 and Director of Pediatric Electrophysiology at WVU Medicine Children's Hospital from 2001-2020. He also received the 2018 award for Small Chapter AAP President of the Year.
Dr. Phillips has received major grant funding as a co-investigator for the FAST trial (Fetal Atrial Flutter & Supraventricular tachycardia therapy), sponsored by The Hospital for Sick Children and the West Virginia Heart Safe Schools Project, sponsored by an AAP CATCH grant.
He enjoys ice hockey, reading and helping with summer camps for children with congenital heart diseases. Fun facts about Dr. Phillips: He is a former Muhlenburg ice hockey player and captain of the team, and he is a movie and Christmas trivia enthusiast.
Clinical Interests
Arrhythmias; Sudden cardiac death and pre-sports participation evaluation; Intracardiac electrophysiology studies and arrhythmia ablation; Genetic arrhythmia syndromes; School-based AED programs; Pacemaker/ICD placement and care