Back to search results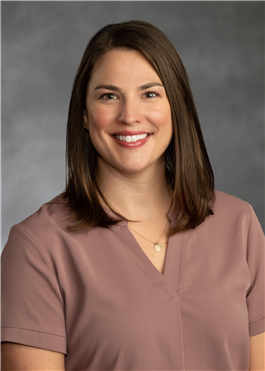 Jessica Hallam, MSN, FNP
Cardiology
Adult Congenital Heart Disease
Education
Nursing School
Lynchburg College School of Nursing
Graduate Nursing Program
University of Alabama at Birmingham School of Nursing
Biography
Helping adults with lifelong cardiac needs live long, fulfilling lives
Over the course of her career as a registered nurse, Jessica Hallam has cared for both kids and adults with complex heart conditions. Today, as a Family Nurse Practitioner, she is specifically dedicated to care of adults who were born with cardiac diseases.
"Working with children and their families is rewarding, and my focus these days on adults allows me to create a safe transition for them as they grow into adulthood," says Jessica, who plays a key role on VCU Health's adult congenital heart disease (ACHD) team at the VCU Health Pauley Heart Center. "I want to ensure my patients live a full and rewarding life."
She treats adults who were born with conditions such as atrial septic defect, bicuspid aortic valve disease, coarctation of the aorta, Ebstein's anomaly, hypoplastic left heart syndrome, and many more. She cares for patients before, during, and after surgeries. From her experience treating kids with heart disease at the Children's Hospital of Richmond at VCU, she has built the skills necessary to help adolescents make the transition from pediatrics to adult cardiology as bodies change and, along with them, their particular heart conditions.
The ACHD field of complex cardiology care involves more than the heart as it can affect the liver, lungs, and other systems. Jessica notes that VCU Health has broad and deep expertise across many fields with providers who help patients with every aspect of their care. Jessica is part of the team helping to build a nationally recognized ACHD program.
When Jessica isn't seeing patients, she's spending time with her two boys, her husband, and their dogs. She takes her own heart health seriously, training for and running in half marathons.
Advice to patients: "You are not alone. It can be scary to face some healthcare decisions, but we are here to guide you."
Clinical Interests
Adult Congenital Cardiology
Cardio-Obstetrics