Back to search results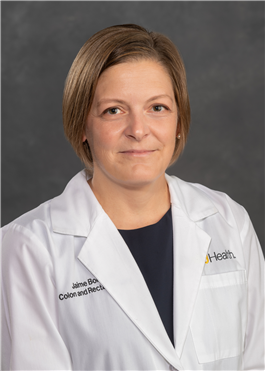 Jaime L Bohl, MD, FACS, FASCRS
Colon and Rectal Surgery
Pelvic Health
Education
Medical School
University of Virginia School of Medicine
Internship
Vanderbilt University Medical Center
Residency
General Surgery, Vanderbilt University Medical Center
Fellowship
Colon and Rectal Surgery, Lahey Clinic
Biography
Dr. Jaime Bohl is the chief of colon and rectal surgery at the VCU School of Medicine. Her clinical interests include sphincter sparing surgery for rectal cancer; laparoscopic colon and rectal surgery; surgical management of inflammatory bowel disease; treatment of benign anal and rectal disease; and colonoscopy.
Dr. Bohl has authored many peer-reviewed articles and book chapters, and she has presented at numerous national conferences. She is a co-investigator for two ongoing grant-funded projects studying the implantation of autologous, bioengineered, internal anal sphincters for the treatment of fecal incontinence.
Dr. Bohl obtained her medical doctorate from The University of Virginia School of Medicine. She completed her residency with Vanderbilt University Medical Center and her fellowship with The Lahey Hospital & Medical Center.
Clinical Interests
Minimally Invasive Colon/Rectal Surgery; Rectal/Colon/Anal Cancer; Benign Anal and Rectal Disease; Colonoscopy; Inflammatory Bowel Disease