Back to search results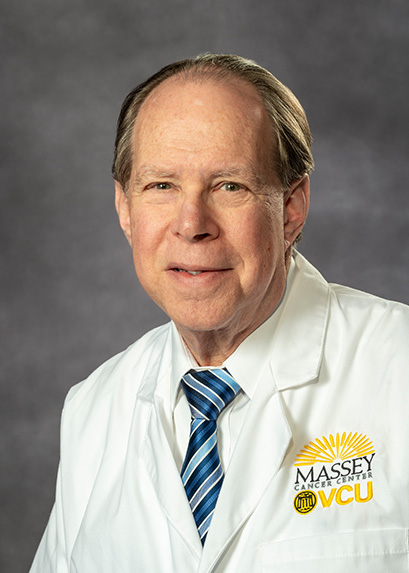 Harry Bear, MD, PhD
Education
Medical School
VCU School of Medicine
Residency
Brigham and Women's Hospital
Residency
University of Glasgow
Fellowship
Surgical Oncology, VCU Medical Center
PhD
Immunology, Virginia Commonwealth University
Biography
Dr. Bear is a Professor in the Division of Surgical Oncology, Professor of Surgery and Microbiology and Immunology, and Interim Associate Director for Clinical Research of Massey Cancer Center at Virginia Commonwealth University. Dr. Bear graduated from Yale University cum laude, earned both his M.D. and Ph.D. at Virginia Commonwealth University, completed his surgical residency at Brigham and Women's Hospital in Boston, and returned to VCU as a fellow in surgical oncology. He has now been on the faculty at VCU for 37 years.
Dr. Bear's clinical interests include breast cancer and other breast diseases, melanoma, sarcoma, and gastrointestinal cancers. His research interests include basic tumor immunology and T cell biology, pre-clinical and clinical studies of immunotherapy, translational clinical research trials, and breast cancer treatment trials. Dr. Bear has authored more than 190 articles and book chapters. His work has been published in several prestigious journals, including New England Journal of Medicine, Journal of Clinical Oncology, Journal of Surgical Oncology, and Annals of Surgical Oncology. He has been on the Board of Directors of the National Surgical Adjuvant Breast and Bowel Project (NSABP) for more than twenty years and has been Study Chair for two of this group's international breast cancer trials. He is Deputy Chair for Communications and Publications for the NRG Oncology Cooperative Group, and also serves on that Board of Directors.
Dr. Bear has also received many special honors, including the Sharon H. Kohlenberg Health Care Service Award from the Virginia Breast Cancer Foundation in 1995, the Distinguished Investigator Lifetime Achievement Award from the NSABP Foundation, Inc. in 2009 and was named the Outstanding Alumnus for 2009 by the Medical College of Virginia Alumni Association. In July 2014, Dr. Bear was appointed to serve on the Board of Directors of the NSABP Foundation.
Clinical Interests
Sarcomas; Melanomas; Breast Cancer; Gastrointestinal Cancer; Head and Neck Cancer; Liver Tumors