Back to search results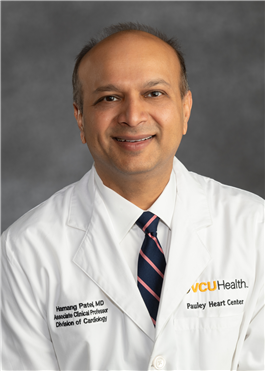 Hamang Patel, MD
Education
Medical School
University of Maryland School of Medicine
Internship
University of Maryland
Residency
Internal Medicine, University of Maryland
Fellowship
Cardiology and Cardiac Transplant, University of South Florida Morsani College of Medicine
Biography
An expert on a team of heart failure and transplant specialists
Dr. Hamang Patel is a cardiologist specializing in heart failure and heart transplant care. He helps patients who have weak hearts decrease their symptoms with medication and surgery.
As part of our heart failure team, Dr. Patel collaborates closely with adult and pediatric cardiologists, cardiothoracic surgeons, transplant specialists, vascular surgeons as well as interventional cardiologists and imaging specialists. As a team, they provide individualized care for patients of all ages, with every type of heart disease—from kids with congenital defects to adults requiring aortic surgery or transplants.
"It's an exceptional team at VCU Health, where we have experts in every aspect of heart care working together to provide the most comprehensive, individualized treatment plan," Dr. Patel says. "Here, there is never a doubt that you or your family will receive the best care possible."
Dr. Patel joins VCU Health from Ochsner Medical Center in New Orleans. His primary clinical focus is with VCU Health's heart failure and heart transplantation programs – working with team members from the Hume-Lee Transplant and Pauley Heart centers.
Transplantation, he notes, is a last-resort option that brings with it a lifelong journey for both the patient and their family, along with physical, emotional, and personal challenges. "Our field is always built on the fact that weak hearts should be optimized as much as possible, as transplantation is a gift and we can't just take a heart off the shelf," Dr. Patel says.
The passion Dr. Patel has for cardiology goes beyond bedside care. He has participated in more than 60 clinical trials over the course of his career related to congestive heart failure, cardiac transplantation, and pulmonary hypertension. Such advances in medications, which require such studies, can ultimately improve a patient's quality of life, reduce the need for surgery, and improve surgical outcomes. Dr. Patel has also served as lead author and contributed to numerous publications in the American Journal of Cardiology, Journal of the CardioMetabolic Syndrome, and other respected medical journals.
Research interests: Cardiomyopathy and healthcare outcomes.