Back to search results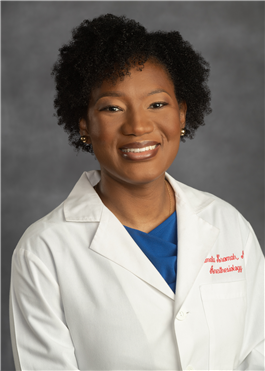 Fatoumata Kromah, MD
Education
Medical School
Ross University School of Medicine
Internship
University of Alabama Health Center-Montgomery
Residency
SUNY Upstate Medical University, Syracuse
Fellowship
University of Pittsburgh Medical Center
Biography
Empowering patients with the birth experience they desire with a focus on quality and safety.
As Director of Obstetric Anesthesia at VCU Health, Dr. Fatoumata Kromah considers it an honor to care for her patients during labor and delivery.
"I love being able to treat people during their most precious moments, even if the events surrounding the labor and delivery are challenging," says Dr. Kromah. She specializes care for pregnant patients (obstetrics) whose treatment requires anesthesia and pain management, such as in the cases of caesarean births and epidurals. "I have always wanted to be of service to patients, and I find the birthing process to be truly fascinating."
As part of her patient-focused approach, Dr. Kromah has had a voice in numerous quality care initiatives throughout her career.
Such an emphasis on patient experience is part of what drew her to VCU Health, recently designated a Center of Excellence in Obstetric Anesthesia by the Society for Obstetric Anesthesia and Perinatology. VCU Health is the only hospital in Virginia to hold such recognition.
"It's a designation that tells you VCU Health has an established commitment to maternal and infant care and safety," she says. "The United States has one of the highest maternal mortality rates, especially in regard to minority women. When patients and their families come to VCU Health, I want them to know that they are receiving the best care possible."
Dr. Kromah joined VCU Health in 2013, attracted to the health system by its urban location, diverse patient populations, and commitment to quality care. "I wanted to be part of a community where there is an acceptable level of diversity in thoughts and a place where anyone may be celebrated for making a difference," she says.
When it comes to obstetric emergencies, Dr. Kromah wants to be her patients' advocate while preventing adverse events where every second counts. "My desire is for each person who elects to deliver a baby at VCU Health to feel heard, safe, and comfortable — and that includes patients with high-risk conditions," she says. "Every single patient and member of our community deserves access to exceptional treatment no matter what type of insurance or conditions they may or may not have."
"She also wants to reduce emergencies and protect mothers and their babies so that they have the best care." Her patient advocacy is intertwined with her commitment to research and fueling the next generation of obstetrics care. "Having the opportunity to comfort and care for the mother and child during emergency situations has always motivated me to seek knowledge and further advancements in research and innovation." It is this devotion to lifelong learning, coupled with an emphasis on communication, that makes Dr. Kromah a reassuring figure in her patient's care. "I seek to provide a calm and soothing presence while keeping an open dialogue with my patients. I want every patient to know that they will be cared for by highly skilled individuals with a special interest in obstetrics here at VCU Health."
Advice to Patients
"Speak with your medical provider early and often. We at VCU Health understand that providing education and setting expectations for our patients goes a long way. We are here to provide support and comfort for every patient and want each patient to feel safe and included in all decisions regarding their care. My motto is: No question is a silly question."
Research interests
Enhanced recovery after cesarean delivery, management of patients with substance use disorders, and fetal surgery. Publications include book chapters in The Obstetric Anesthesia Practice, The Manual of Clinical Anesthesiology, and Essentials of Blood Product Management in Anesthesia Practice.