Back to search results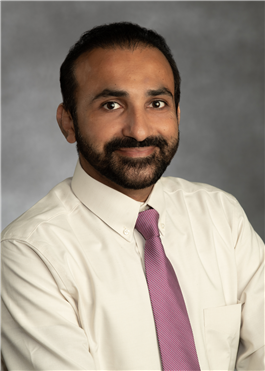 Farrukh Abbas, MD
Pulmonary Disease and Critical Care Medicine
Locations
Education
Medical School
King Edward Medical University
Residency
Rochester General Hospital
Fellowship
University of Rochester
Biography
A doctor who treats asthma through advocacy and education
Farrukh Abbas, MD, knows the journey to healthier lungs relies on a partnership between a patient and their doctor.
Abbas, part of the Division of Pulmonary Disease and Critical Care Medicine at VCU, offers the care and counsel needed to help his patients get better. But he stresses that his patients also need to take ownership by learning about their condition and understanding the steps they can take to improve it.
"I strongly believe in shared decision-making," Abbas says. "I want my patients to partner with me to help treat them. They need to understand their disease, ask questions, and be actively involved in how to manage it."
Abbas specializes in treating patients with a range of lung diseases and is a key part of the team at the VCU Health Asthma Program. The group of multidisciplinary providers draws on the expertise of allergists, pharmacists, and ear, nose, and throat (ENT) doctors, as well as other specialists to provide quality care tailored to each patient's individual needs.
"Asthma is a challenging disease, and sometimes it needs attention from multiple different fronts," Abbas says. "We work as a team at our severe asthma center to provide comprehensive care to our patients."
The VCU Health Asthma Program strives to stop hospital stays and emergency room admissions in adults and children with asthma by addressing the social, home, and community issues that can make the condition worse. Central Virginia, and Richmond city in particular, is ranked one of the harshest environments for asthma sufferers due to high poverty rates and pollen counts, each of which contribute to airway irritation and flare ups.
Abbas was drawn to his field during his medical residency at Rochester General Hospital in New York, where he helped patients and their families through the difficult times people with lung diseases sometimes face.
He notes the field of asthma care has grown over the last 10 years and that many therapies are available to treat and manage severe asthma symptoms.
"I want each of my patients to feel they are heard, believed, and that their doctor cares about them," Abbas says.
Advice to patients: "It's crucial to understand your disease and to understand the correct technique for using inhalers. Your treatment involves lifestyle changes. Without active patient involvement, it is very difficult for a doctor to help you feel better."