Back to search results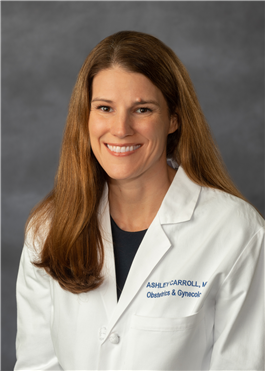 Ashley Carroll, MD
Pelvic Health
Obstetrics and Gynecology
Urogynecology
Female Pelvic Medicine and Reconstructive Surgery
Education
Medical School
Medical University of South Carolina
Internship
VCU Medical Center
Residency
VCU Medical Center
Biography
A 'privilege' to restore a woman's sense of self and train the next generation of surgeons
Dr. Ashley Carroll became fascinated with pregnancy and women's bodies during high school biology – a class that set her life's course in obstetrics and gynecology. During her medical residency at VCU Medical Center, she discovered an even greater passion for helping women with pelvic floor disorders restore their function and quality of life.
"I consider it a privilege to help a woman get back her sense of self and I find great satisfaction in seeing the smiles on my patients' faces when they tell me, 'I feel like a new woman,'" says Dr. Carroll, a fellow of the American College of Obstetricians and Gynecologists specializing in female pelvic medicine and reconstructive surgery. "It's an honor to be a part of that personal transformation."
Dr. Carroll treats women living with symptoms related to weak muscles or tissues that support the pelvic floor, which causes organs to drop and creates a bulge in the vagina or rectum, resulting in poor bladder or bowel control. Dr. Carroll's patients range from their late 20s following childbirth to well into one's senior years. The Women's Health team uses the latest evidence-based research and collaborates with specialists in urology, gastroenterology and physical therapy to offer individualized care for every patient and develop the best course of treatment to meet each woman's own goals.
"Pelvic floor disorders can impact the lives of women in very different ways, and I treat my patients as if I were the one in the chair," she says. "As a woman, I know our bodies can be complicated, and I want to not only improve my patients' health, but also their quality of life."
An associate professor of obstetrics and gynecology at the VCU School of Medicine, Dr. Carroll has done extensive research in surgical outcomes of prolapse repair via robotic surgery; the role of physical therapy in sexual pain; and urodynamic evaluation of overactive bladder. She also enjoys her role as a teacher, mentoring and graduating six resident surgeons each year. "It is a privilege to send them out in the world knowing they have the confidence and skills to provide excellent care of the women they will treat," she says. "The opportunity to positively impact the future of medicine and women's health is one of the most rewarding parts of my job."
Dr. Carroll's own quality of life involves spending time with her family, hiking in the mountains and exploring the James River.
Clinical Interests
Minimally Invasive Surgery; Pelvic Floor Reconstructive Surgery; Pelvic Floor Disorders; Urinary and Fecal Incontinence