Back to search results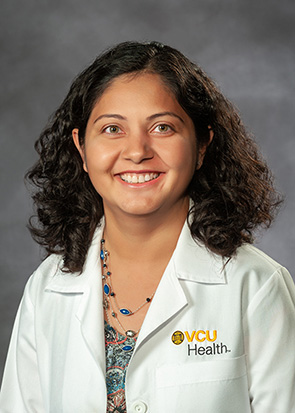 Zahra Raza, MD
Primary Care at Mayland Medical Center
Family Medicine
Family Medicine and Population Health
Locations
Education
Medical School
Fatima Jinnah Medical College for Women
Residency
Reading Hospital and Medical Center
Biography
'I love the connection I can make with patients'
Zahra Raza comes from a long line of family members who have served as physicians, health care providers, and scientists. "My parents taught science throughout their lives, and like any other parents strived to help their kids into noble professions where we could be helpful to the community and could reduce pain and suffering for our fellow human beings," says Dr. Raza, who joined VCU Health's family medicine team in 2018 after a residency in Pennsylvania and medical education in Pakistan. "I love the connection I can make with patients, and the idea that I can grow older with them while helping them on their health issues as a primary care provider."
Dr. Raza works with all ages, from newborns to the elderly, and performs common outpatient procedures such as skin lesions excision and biopsies, joint injections and preventative gynecological procedures. At our Mayland Clinic in Henrico County, Dr. Raza is helping build the practice's care for women and children. She is one in a team of multispecialty providers at clinics across central Virginia, working together to offer patients to the most personalized care for their needs. "I believe in working as a team, where I act as educator and coach, and the patient is given the most accurate information possible to decide on the options and treatments best for them," she says.
Dr. Raza is a strong proponent of preventative care, too, counseling patients on ways to stop the progression of disease or complications before they occur.
Known for her pleasant demeanor and for being an attentive listener, Dr. Raza appreciates the trust patients put in her to stay healthy – or get healthy once again. "When we sit down on a follow-up visit and review improved lab results or reduced risk of health problems, it makes me so proud," she says.
Research interests
Dr. Raza is involved in researching current ad challenging medical issues. Still young in her research work, Dr. Raza has submitted an article on hypertriglyceridemia to the Journal of Family Practice and is working on a paper around how tai chi can improve the health of fibromyalgia patients.
Clinical Interests
Primary care