Back to search results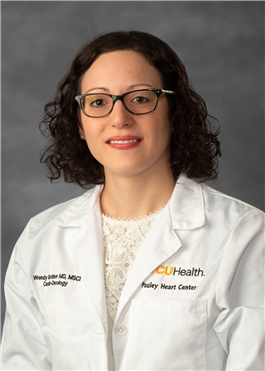 Wendy Bottinor, MD, MSCI
Cardiovascular Disease
Cardiology
Education
Medical School
VCU School of Medicine
Internship
VCU Medical Center
Residency
VCU Medical Center
Fellowship
Vanderbilt University, Cardio-Oncology
Fellowship
University of Louisville, Cardiology
Biography
Helping every patient with cancer have a healthy heart.
In the rapidly emerging field of cardio-oncology, Wendy Bottinor, MD strives to be a leader. She makes sure a patient's heart is healthy for cancer treatment, and helps minimize cardiovascular problems both during and after cancer care. She and other cardio-oncology specialists do this, in part, by improving our understanding of the cardiovascular toxicities of novel anti-cancer agents.
During medical training, her interest in the highly specialized field was sparked when she met patients with cancer who required heart treatment. Under the mentorship of Dr. Carrie Lenneman, Dr. Bottinor, then a cardiology fellow at the University of Louisville in Kentucky, helped design a cardio-oncology curriculum for students. "I realized early on that there was a lot of overlap between cancer and cardiovascular disease, and it's an area with a lot of room for discovery," she explains.
With so many unanswered questions surrounding cardio-oncology, she is helping VCU Health and the VCU School of Medicine take the lead on finding answers by building up the program at the academic medical center.
"Both our clinical and research work will ultimately give patients with cancer and survivors the best heart care possible," says Dr. Bottinor, who is board certified in echocardiography and nuclear cardiology and an assistant professor of internal medicine and cardiology. "As doctors and researchers, we have to be flexible and willing to learn new things. New cancer therapies are being developed at a rapid pace, and understanding their potential effects on the heart and circulatory system means continually learning."
In 2020, Dr. Bottinor returned to the site of her medical school and residency from Vanderbilt University Medical Center in Nashville, Tenn. "The opportunity to return to Richmond and work with mentors and collaborators who helped me become the physician I am today is very exciting," she says. "I am proud of the education and training that I received at VCU, and am looking forward to contributing to this great organization to develop a patient-centered, interdisciplinary program in Cardio-Oncology."
For cancer or heart patients – or those with a diagnosis of both — she encourages asking questions. "Sometimes you may need to hear things more than once, or have it explained in a different way. That is okay," she says. "We want you to have all the information you need to be empowered to direct your healthcare. It's incredibly rewarding to make a difference in another person's life."
Clinical Interests
Cardio-Oncology