Back to search results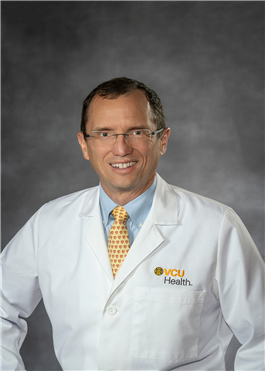 W. Gregory Hundley (Greg), MD
Cardio-Oncology
Cardiology
Locations
Education
Medical School
VCU School of Medicine
Residency
Parkland Memorial Hospital
Residency
University of Texas Southwestern Medical Center at Dallas
Fellowship
Cardiology, University of Texas Southwestern Medical Center at Dallas
Biography
Dr. William Gregory Hundley is a proud alumnus of VCU School of Medicine and the first director of the Pauley Heart Center. His expertise in preventive heart care and his research in cardio-oncology will build on our strengths in the Pauley Heart Center and VCU Massey Cancer Center. His research focuses on preventive heart care for patients undergoing chemotherapy, which has been found to increase the risk of heart attack and other cardiovascular issues a decade or more after treatment. He was the first in the world to use MRI to visualize and measure blood flow in coronary arteries and the first to demonstrate that MRI stress testing can identify those at risk of heart attack.
Dr. Hundley comes to VCU Health from Wake Forest School of Medicine where he served in several roles over the past 22 years, most recently as the medical director of the Reynolds Tower Cardiovascular Imaging Facility. He currently serves as a member of the American College of Cardiology Integrated Learning Committee, Cardiovascular Imaging Committee and the American College of Cardiology Imaging Network. He is a fellow of the American College of Cardiology and the American College of Physicians; a member of the Clinical Cardiology Council and CV Radiology Council of the American Heart Association; and a member of the Society of Cardiovascular Magnetic Resonance in Medicine.
In conjunction with Dr. Hundley's arrival, a new Cardiovascular Imaging Suite, which opened to patients in July 2018, brings together personalized cardiovascular evaluation, diagnosis and treatment for both Pauley and Massey patients. Dr. Hundley and Dr. Gordon Ginder, director of VCU Massey Cancer Center, work closely together to identify and understand the connection between oncology treatments and cardiovascular events for patients.
A native of Richmond, Dr. Hundley earned his bachelor's degree from William and Mary and after medical school at VCU School of Medicine, he completed his internal medicine residency and fellowship in cardiovascular disease at Parkland Memorial Hospital and the University of Texas Southwestern Medical Center in Dallas, Texas.
Clinical Interests
Preventive heart care for patients undergoing chemotherapy