Back to search results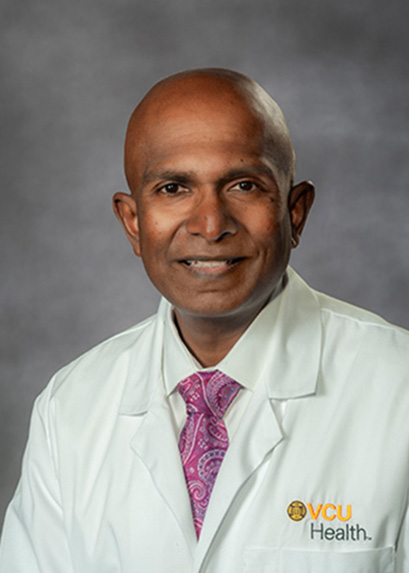 Vigneshwar Kasirajan, MD, FACS
Education
Medical School
Madras Medical College
Internship
Government General Hospital
Residency
Cleveland Clinic
Government General Hospital
Fellowship
Cleveland Clinic
Biography
Driving the future of medicine with a team who 'supports every person in their time of greatest need'
Your treatment with Dr. Vigneshwar Kasirajan begins with a conversation: "between me, you, and your family," he says, "to understand your concerns, your questions, and to work together to solve a problem."
Yet despite his specialty and renowned international reputation as a heart surgeon, surgical therapy may not always be the answer for each patient. "My goal as a surgeon is to look at each patient and determine the most appropriate care – whatever is best for the individual," says Kasirajan. "Care may or may not mean heart surgery. Our desire is for each person to have good health, and we will do everything possible to make them better."
Known to many simply as "Vig," Dr. Kasirajan joined VCU Health in 2000, with clinical interests that have grown over time as the cardiac surgery and heart-transplantation fields have evolved and advanced. He specializes in heart bypass surgery, heart failure, valve repairs, transplantation, ventricular assist devices, artificial hearts, and surgical therapy of conditions such as atrial fibrillation and arrhythmias as well as hypertrophic cardiomyopathy (thickening of the heart muscles).
Dr. Kasirajan's father was a cardiologist, and growing up in India, Vig listened intently to his dad's stories of surgeries and transplants, during an era when the heart surgery specialty was growing. Following in his father's footsteps, Vig attended Madras Medical College before emigrating to the U.S., where he took a fellowship in cardiothoracic transplantation and mechanical-assist devices at the world-renowned Cleveland Clinic Foundation.
At VCU Medical Center in 2006, Kasirajan led the first surgical team on the East Coast to implant the SynCardia Total Artificial Heart, the only device of its kind approved by the FDA. Peers will tell you Kasirajan's work in the field of cardiovascular disease management has helped establish VCU Health as a national leader in artificial heart transplantation – the data supports Vig as one of the top total artificial heart surgeons in the world. He's also at the forefront of international research in the use of artificial hearts and mechanical assist devices, in particular the left ventricular assist device, or LVAD.
As a physician within an academic health system – which includes both the VCU Medical Center and VCU School of Medicine – Kasirajan has the opportunity to collaborate and participate in groundbreaking research and international clinical trials. In his early career years in the 1990s, he studied coronary bypass procedures. As his career and knowledge has evolved, he has published a number of papers in peer-reviewed journals on the topics of LVADs, heart transplantation, and the total artificial heart.
"As an academic health system, VCU is driving the future of medicine. We innovate, create new knowledge, and educate a future of generation of heart surgeons and physicians," he says. "Developing and sharing knowledge is critical for our society."
Yet despite his lifelong knowledge, truly successful patient care requires a collaborative team, he explains.
"Your care at VCU is not just from me, it is a team its all of us – every person here, from the teams keeping the grounds and buildings looking beautiful, to the people who bring you food, to the therapists and physicians and nurses and care coordinators," Dr. Kasirajan says. "We all come together for the sole purpose of improving each person's welfare. Working as one, our top goal is to deliver care that is unique to each patient and gets them back to a healthy and productive life."
And it is each patient – and that first conversation that begins a close relationship – that keeps him coming back downtown every day.
"I absolutely love my job and I love coming to work each and every day. This place, VCU…it energizes me," he says. "When you see a patient after surgery and they're living their best life and tell you they're doing great, it makes everything worthwhile."

A message for referring providers:
Clinical interests: Coronary bypass surgery, valve repairs, re-operation, surgery for heart failure including transplantation, surgical therapy for atrial fibrillation and ventricular arrhythmias, surgical therapy for hypertrophic cardiomyopathy.
To schedule an appointment with Dr. Kasirajan, contact us at (804) 828-2774.

Dr. Kasirajan on:
Heart disease:
During medical school, a patient outside a waiting room collapsed after suffering a heart attack. "The man had a young wife and children," Dr. Kasirajan says. "That event made me realize that heart disease is a huge burden on society, and anything we as doctors can do to make the burden less is very important."
Healthy hearts:
So much heart disease relates to one's genetics. But there is a significant overlay of other environmental factors –pollution, exercise and diet. Salt intake is particularly dangerous for those with heart disease. As researchers, we are still working to understand the impact of genetics on heart disease. It is an active area of research."
Life outside the hospital:
"I love coming to work. Work is not stressful for me; it is a joy. In those times when I am off, I enjoy spending time with my wife and children. We enjoy SCUBA diving, going hiking, and my wife and I try to run together every day."
Clinical Interests
Cardiac Surgery; Coronary bypass surgery; Valve repairs; Surgery for heart failure; Transplantation; Surgical therapy for atrial fibrillation; Transmyocardial laser revascularization; Surgical therapy for hypertrophic cardiomyopathy