Back to search results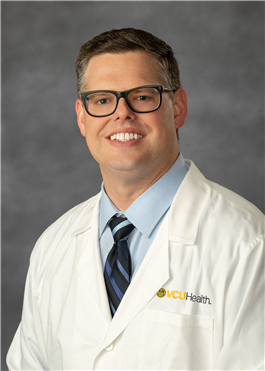 Stephen Sharp, MD
Education
Medical School
University of Colorado School of Medicine
Internship
General Surgery, University of Colorado
Residency
General Surgery, Albany Medical Center
Fellowship
Surgical Translational Research, Albany Medical Center
Fellowship
Colorectal Surgery, Cleveland Clinic Florida
Biography
Deep knowledge, technical ability, and listening to patients for the highest level of care
Dr. Stephen Sharp says the keys to success as a colorectal surgeon aren't just the skills a doctor brings to the operating room.
It's also about having a good bedside manner, he says.
"My goal is to be a good listener and help the patient feel at ease," Dr. Sharp says. "I treat each patient as if they were a member of my own family, and help guide them through their diagnosis and treatment plan."
Dr. Sharp, who also serves as an assistant clinical professor of surgery in the VCU School of Medicine Department of Surgery, performs colonoscopies and endoscopies as well as minimally invasive procedures for patients with colon and rectal cancers. He also treats inflammatory bowel disease and diverticulitis, benign conditions such as hemorrhoids and fistulas, and pelvic floor disorders, among other conditions.
He joined VCU from the Cleveland Clinic Florida, where he trained under one of the most internationally recognized colorectal surgeons in the world, Dr. Steven D. Wexner. Dr. Sharp says he was drawn to VCU because it offers an opportunity to treat patients who are experiencing a wide range medical conditions, from a number of backgrounds, in a setting that provides superb colorectal care. "My goal is to help VCU become a center of excellence for colorectal surgical care where patients are treated by the best possible providers," he says.
Dr. Sharp has also served as lead or contributing author on numerous published studies in medical journals such as Diseases of the Colon & Rectum, Colorectal Disease, and American Journal of Surgery. He's also part of a new generation of care providers who are embracing use of social media in healthcare.

Advice to patients: "Colorectal conditions may seem embarrassing to talk about, but as a provider, we are here to help you. Some conditions can be very challenging to deal with, but there are a multitude of available resources, so don't be afraid to ask for help and don't be afraid to ask questions."

Research Interests: Clinical outcomes in rectal cancers, racial disparities in colorectal surgery
Clinical Interests
Minimally Invasive Colon/Rectal Surgery; Rectal/Colon/Anal Cancer; Benign Anal and Rectal Disease Colonoscopy; Inflammatory Bowel Disease; Diverticular Disease; Hemorrhoids