Back to search results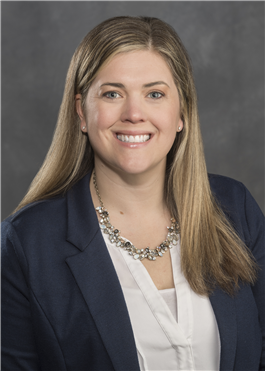 Stephanie Bork, MSN, FNP-BC, APRN
Pulmonary Disease and Critical Care Medicine
Locations
Education
Graduate Nursing Program
University of Pennsylvania
Biography
An NP focused on the whole patient, with one goal in mind: Breathing and living better
With a passion for patient care, teaching, and research, Stephanie Bork is a nurse practitioner and member of the VCU School of Nursing Faculty Practice Program, who has her hands in all three disciplines at VCU and VCU Health.
She focuses on care for people and families living with asthma, especially its most severe form that often requires taking biologic medications (injectable biologics are developed from a living organism to target molecules in the body that cause disease). Ms. Bork also has extensive experience in treating additional airway diseases of the lung like COPD (chronic obstructive pulmonary disease) and bronchiectasis (mucus buildup in the lungs that can cause infection).
Her knowledge makes her a key team member of VCU Health's Asthma program, which brings a multidisciplinary approach — physicians, NPs like Ms. Bork, and other specialists from a number of medical backgrounds, working together to manage each individual's condition.
"Asthma is a common yet still very debilitating problem for so many people. And we still do not have a cure," notes Ms. Bork, an active member of the American Association of Nurse Practitioners and American Academy of Allergy, Asthma & Immunology. "I enjoy helping people find ways to better manage their asthma in order to live their lives as normally as possible."
VCU's asthma program is focused on reducing inpatient and emergency department admissions in adults and children with asthma by addressing the social, home, and community issues that negatively impact the condition. High pollen count and socioeconomic factors that contribute to airway irritation and flare-ups make Central Virginia one of the most difficult places to live with asthma. All those factors can worsen or exacerbate asthma and make it difficult to control.
Ms. Bork became a family NP after spending her first few years treating patients in an emergency department. "I saw the impact of poor health when not treated adequately outside of the hospital, and wanted to help people better care for themselves and avoid an ER visit or admission to the hospital," she says. "I believe in caring for the whole person and family, as they are very much intertwined.
She considers healthcare a partnership between provider and patient. "I am so focused on asthma's disease process and how it affects individuals and families. I want to listen and offer the best options to gain control of your asthma or other lung problems, because as a healthcare team we are most successful when we partner with our patients and listen to how we can best meet their goals," she says.
At VCU, she is able to blend her love of teaching and scholarship, research, and clinical practice together in one role.
In the School of Nursing, she leads didactic courses in advanced health assessment, family NP core classes and population health. She also oversees and precepts NP students. Her research interests include exploring biologics for severe asthma and respiratory conditions, especially in those who have additional conditions such as obesity, pregnancy, and depression.
And as an advocate for her own profession, she is focused on helping NPs advance through recognition and post-degree education.
"I hope to help improve asthma care for patients, while teaching future nurse practitioner students to do what I do and completing clinical research in the field," she says. "The translation of research to practice is important to better improve outcomes for our patients and future health care practitioners".
Advice to patients: "Always ask questions and feel confident to understand your health. Bring an advocate with you if you need help understanding or processing information related to your health."