Back to search results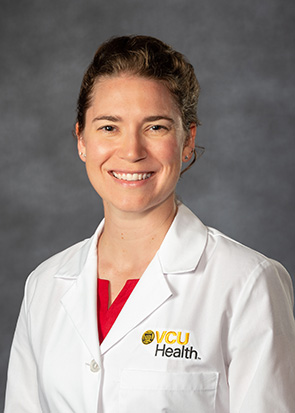 Sarah Krzastek, MD
Urology
Reproductive Endocrinology and Infertility
Education
Medical School
VCU School of Medicine
Internship
VCU Medical Center
Residency
VCU Medical Center
Fellowship
University of Virginia Health System
Biography
Compassionate care is part of treatment for male infertility
Dr. Sarah Krzastek often sees patients at a pivotal moment in their lives, when couples come to her seeking answers as to why they haven't been able to get pregnant and start a family. As a urologist, she specializes in treatments for male infertility. In every case, she augments her impressive medical expertise with compassion and understanding.
"A couple's struggle with infertility can be devastating – and to be able to provide a service that may ultimately result in new life is an incredible privilege," Dr. Krzastek said. As a former VCU medical student and intern, she learned from her first days at the hospital about its exceptional commitment to the highest quality care and patient centered treatment.
"Our ability to understand and diagnose male infertility is growing rapidly, with our increasing ability to identify the genetics involved in male infertility and subfertility," she said. "As our technology evolves, we may be able to identify the genes responsible and target treatment options appropriately."
Dr. Krzastek recently joined VCU Health's expanding team that treats men's sexual and reproductive health, with a goal of building this program into a center of excellence. During a fellowship at the University of Virginia, she gained specialty training in leading-edge treatments of male infertility, erectile dysfunction, Peyronie's disease (which causes a bent erection), adult-acquired buried penis, scrotal lymphedema, and narrowing of the urethra, which carries urine from the bladder. Her research at VCU continues to explore new treatments in these areas.
Similar progress is being made in new treatments for erectile dysfunction. "Within five to 10 years, we may be able to treat the underlying cause of erectile dysfunction, rather than just treat the symptoms in the same way we have been over the past few decades," she said.
While she does treat some women, Dr. Krzastek primarily cares for male patients. Common clinic procedures are cystoscopy, where she can examine the lining of the bladder and the urethra; Botox injections that can ease bladder symptoms including spasms and urgency; special imaging of the bladder and urethra; and vasectomies. She also conducts ultrasounds and biopsies that help to diagnose and treat prostate cancer.
"Urology, in general, is a very rewarding field," added Dr. Krzastek, who also sees patients at the nearby Hunter Holmes McGuire Veterans Administration Medical Center. "Patients are very grateful for the treatment they receive, and we can make a big impact on a patient's quality of life."
Dr. Krzastek approaches each new case with a genuine interest in her patients and their health, and she expects them to be equally committed to their well-being by taking actions to achieve treatment goals including maintaining a healthy lifestyle, taking each day one step at a time, and remaining optimistic.