Back to search results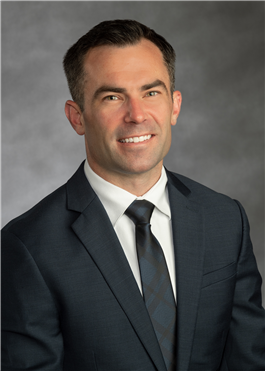 Ryan Fairley, DO
Weight Loss Surgery
Gastrointestinal Surgery
General Surgery
Bariatric Surgery
Education
Medical School
Kansas City University of Medicine and Biosciences
Internship
Community Memorial Health System
Residency
Community Memorial Health System
Fellowship
Legacy Health/The Oregon Clinic
Biography
Helping patients with obesity achieve their goals and improve their lives
For Ryan Fairley, DO, becoming a specialist in weight-loss surgery was the path he chose to see truly visible, life-changing improvements in his patients. And because weight loss is a journey, being a bariatric surgeon is a way for him to develop a long-term relationship with every person under his care.
"It takes a willing, hardworking, compassionate surgeon to help treat obesity — and as important is a willing and hardworking patient who truly wants to change their life," Dr. Fairley says. "When we meet for the first time, I want to first talk about the problem at hand, get an understanding of what you know about your particular condition, then work with you to create a joint plan and path to resolution. I want you to be comfortable discussing your issues, your concerns, and ensure you are well-informed."
VCU Health is accredited as a Comprehensive Blue Center of Distinction by the American College of Surgeons' Metabolic and Bariatric Surgery Accreditation and Quality Improvement Program to care for adults and adolescents with clinically severe obesity. Every patient is unique, and surgeons like Dr. Fairley will help identify the right type of weight loss surgery, which may include gastric bypass, a sleeve gastrectomy, or revisions to a previous procedure.
The field is also constantly evolving, and the VCU Health team stays on the forefront of new innovative surgical and non-surgical options. Outside of weight loss surgery and caring for obese patients, Dr. Fairley treats individuals living with heartburn, acid reflux, and other gastrointestinal issues.
"VCU Health struck my interest to be a part of a larger institute with the resources to make a significant impact in the local community and the state," says Dr. Fairley, who hails from western Nebraska and takes pride in bringing to Virginia his small town Midwestern values and hard work ethic. "The reputation of the health system speaks for itself. I am excited to help people with obesity achieve their goals, improve their overall health, and prolong their life."
Advice to patients: "When you're in a tough position and facing a medical issue, know you are not alone — and never give up."
Research interests: Gastroesophageal reflux disease (GERD) and weight regain after bariatric surgery
Clinical Interests
Bariatric Surgery; GI Surgery; Gastric bypass; Sleeve gastrectomy; Gastroesophageal reflux disease (GERD)