Back to search results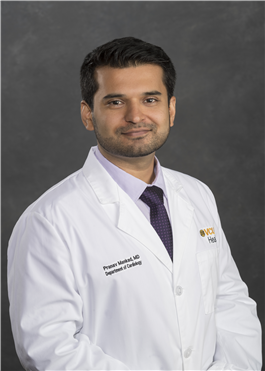 Pranav Mankad, MD
Clinical Cardiac Electrophysiology
Education
Medical School
Eastern Virgina Medical School
Internship
Rush University Medical Center
Residency
VCU Medical Center
Fellowship
VCU Medical Center
Biography
Tacking rhythm issues alongside the world's finest heart-care team
Like your home, the heart has an electrical system. Think of Dr. Pranav Mankad as the heart's highly trained electrician.
"The system can malfunction sometimes, and heart muscle cells that are supposed to work and 'fire' under normal conditions do so in a more chaotic manner," he explains. "Some of these heart-rhythm issues can be debilitating, and even life-threatening. That's what I and our team treat."
Dr. Mankad's specialty is electrophysiology, focused on the diagnosis and treatment of irregular heartbeats (arrhythmias) and the heart's conduction system. He's practicing in a good place, too: VCU Medical Center is consistently ranked among the top medical centers in the nation for cardiac care. Dr. Mankad was an internal-medicine resident and did both his cardiology and electrophysiology fellowships here, too.
"VCU invests in its own community and provides cutting-edge care to its patients. I have been mentored here by some the world leaders in their respective fields," he says, "and to have an opportunity to continue to learn from them, work with them, and be part of the same team almost seems surreal."
Dr. Mankad is a first-generation immigrant who says his multicultural background and hardworking and self-driven attitude "allows me to stay focused and empathetic." Among his areas of expertise include treatment (including ablation) for atrial fibrillation (AFib or AF), supraventricular and ventricular tachycardia, complex atrial flutters, pacemaker and ICD lead implantation and extraction, and left-atrial appendage occlusion devices (known as the WATCHMAN).
"I enjoy working with my hands and heart rhythm issues have always fascinated me," he says. "Electrophysiology is a specialty that allows me to treat and even cure some of the heart rhythm problems and improve my patients' quality of life, which is very gratifying."
As added evidence of his skill with his hands, Dr. Mankad is a self-taught photographer. "I love taking pictures of landscapes and capturing our beautiful planet," he says.
Advice to patients: There are things you are in charge of, like diet and exercise, and that makes a difference. There are things a physician can control, where I can help. And there are sometimes things that are out of our control — but we will face them together.