Back to search results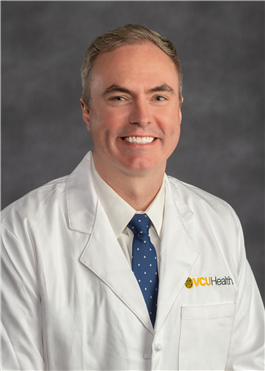 Peter Jackson, MD
Pulmonary Disease and Critical Care Medicine
Education
Medical School
VCU School of Medicine
Residency
Yale University School of Medicine
Fellowship
Research fellow, Johns Hopkins University
Fellowship
Fogarty fellow, National Institutes of Health (NIH)
Fellowship
Pulmonary and critical care fellowship, Oregon Health and Science University
Biography
A local patient focus — with eyes on treating the World.
Dr. Peter Jackson cares for some of the most complex patients with pulmonary disease in clinical settings and some of the most critically ill patients from across Virginia in the ICU. And in those times when he's not seeing his own patients, this pulmonary and critical care doctor is dedicated to improving care for others around the globe.
Dr. Jackson treats a variety of chest and respiratory conditions, including common ones such as COPD and asthma, along with more rare diseases. He has particular interest in interstitial lung disease (ILD), a group of disorders that cause lung scarring and limit the ability to breathe easily.
He came to VCU Health by way of a fellowship in pulmonary and critical care in Oregon and a research fellowship in Uganda (where he studied ILD) with Johns Hopkins University. All of his fellowships followed a residency in internal medicine at Yale University after earning his medical degree here at the VCU School of Medicine.
"In pulmonary and critical care medicine, we care for patients who are well enough to have only occasional visits to outpatient clinics to manage their health, but also treat very ill people in the intensive care unit who may have issues with not only their lungs but other organs, too. It takes a lot of work to keep up with the range of diseases we treat, which makes the pulmonary and critical care field especially rewarding," Dr. Jackson says. "And I couldn't think of a better place to settle down and have a career than VCU Health."
The respiratory tract and lungs are the central targets for the COVID-19 disease, and global research on the virus — to develop new standards of care and accelerate treatment and therapeutics — is crucial to study during this unprecedented time. Dr. Jackson is the recipient of the Chest Foundation and American Thoracic Society Research Grant in COVID-19 and Diversity, a $25,000 award to study underrepresented minorities. With his grant, he is researching how the pandemic has affected patients with tuberculosis in Uganda.
It was in the East African country where Dr. Jackson spent a year under a research fellowship with Johns Hopkins and the National Institutes of Health (NIH). There, he examined the prevalence and risk factors for interstitial lung disease among urban and rural populations, studying the association of ILD with environmental and infectious exposures. In ILD patients, often times, the patient's work or living environment has an impact on the condition. "Some of these disorders can be related to the patient's job, or exposures to chemicals or other substances in their past," he notes. His was one of the first such investigations into ILD exposures in sub-Saharan Africa.
Now at VCU, Dr. Jackson is excited to expand its Global Health mission with opportunities for international service and learning for pre-professional health students and doctors at the academic medical center. Dr. Jackson and team plan to expand these projects within the Department of Medicine and the division of Pulmonary and Critical Care to include more research opportunities, capacity-building projects, and create more longitudinal relationships with new partner sites around the world. He also hopes to create a collaborative exchange to allow his physician colleagues in Uganda to see how pulmonary medicine is practiced in America and offer their expertise to VCU.
Advice to patients: "Seek out information from trusted sources. It is difficult to navigate illness these days, and can be especially hard with information — much of it wrong — at our fingertips. Be sure to talk with your physicians about treatments you may have read about, as well as your concerns. I hope to have a comfortable collaborative relationship with my patients and provide up to date treatment options and advice so we can best navigate their health together."
Research interests
Interstitial Lung Disease including sarcoidosis and pulmonary fibrosis. Lung health in low-middle-income countries, with a focus on East Africa, including research related to bronchoscopy and occupational lung disease
Clinical Interests
COPD; Asthma; Interstitial lung disease; Rare diseases