Back to search results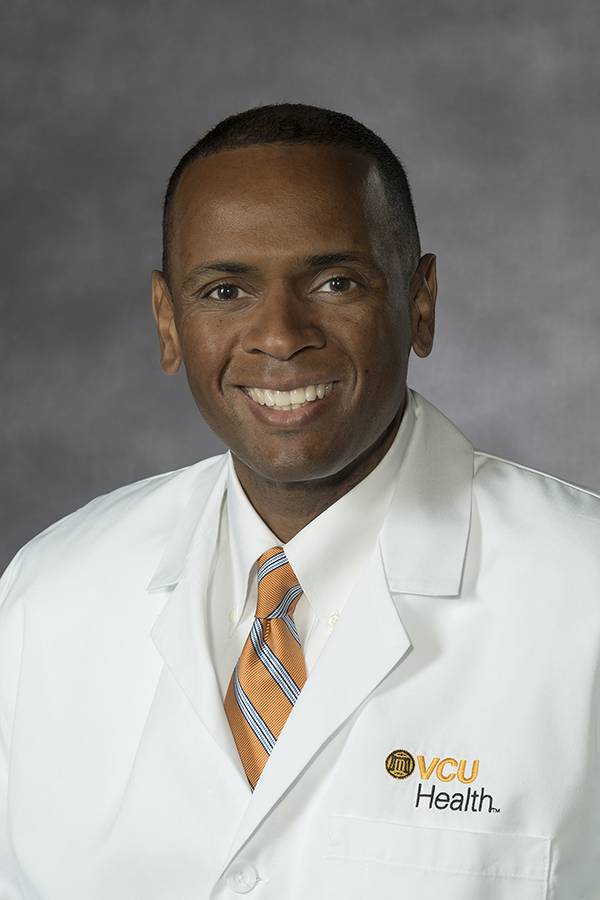 Patrick Nana-Sinkam, MD
Pulmonary Disease and Critical Care Medicine
Education
Medical School
Wake Forest University School of Medicine
Residency
University of Michigan Health System
Fellowship
University of Colorado Health Sciences Center
Biography
A pulmonologist and physician-scientist, Dr. Nana-Sinkam is Chair and Professor in the Division of Pulmonary Disease and Critical Care Medicine in the Department of Internal Medicine at the VCU School of Medicine. He is also the Linda Grandis Blatt Endowed Chair in Cancer Research and a member of the Cancer Cell Signaling and Cancer Prevention and Control research programs at VCU Massey Cancer Center.
Specialized in the diagnosis and treatment of lung cancer and chronic obstructive pulmonary disease (COPD), Dr. Nana-Sinkam co-directs a comprehensive lung cancer screening program for the early detection of lung cancer. He is also engaged in research focusing on the molecular pathogenesis of lung cancer and identification of novel tumor biomarkers for early lung cancer detection and surveillance. He has been well funded by the National Heart, Lung and Blood Institute as well as by the National Cancer Institute, and he is currently principal investigator on two NIH R01 awards. He has published over 60 original scientific reports, 6 invited editorials/reviews, and 11 book chapters.
Dr. Nana-Sinkam is the recipient of several research and teaching awards, including the CHEST/LUNGevity Award for Clinical Research in Lung Cancer and the Excellence in Teaching Award from Ohio State University. He is a member of the National Cancer Institutes Early Detection Research Network and helped author the ACCP Lung Cancer Guidelines III (Molecular Biology of Lung Cancer). He has served as a member on a number of NIH study sections and is an editorial board member for several scientific journals, including the American Journal of Respiratory and Critical Care Medicine; Journal of Thoracic Oncology; Frontiers in Thoracic Oncology; and Lung Cancer Frontiers.
Before joining VCU Health in 2016, Dr. Nana-Sinkam served as the Associate Director of the Thoracic Center at the James Comprehensive Cancer Center at The Ohio State University. He also served as the Director of Mentorship for the Center for Faculty Advancement, Mentoring and Engagement at The Ohio State University. In this role, he led the implementation of formal mentorship programs in the College of Medicine and demonstrated a deep commitment to fellow and faculty development. Previously, he served on the faculty at the University of Colorado and as Associate Director of the fellowship training program.
A native of Virginia, Dr. Nana-Sinkam received his Bachelor of Arts degree from Williams College followed by his medical degree from Wake Forest University School of Medicine. He completed his residency training in internal medicine at the University of Michigan Health System, where he served as Chief Medical Resident, and completed a fellowship in pulmonary sciences and critical care medicine at the University of Colorado Health Sciences Center.
---
Clinical Interests
Thoracic malignancies; Epigenetics;Biomarkers; Micro RNA