Back to search results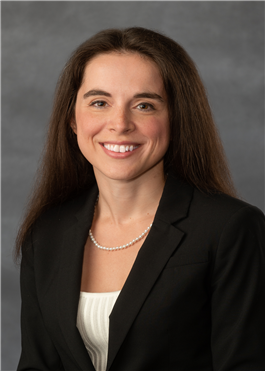 Paschalia Mountziaris, MD PhD
Plastic and Reconstructive Surgery
Locations
Education
Medical School
Baylor College of Medicine
Residency
Albany Medical Center
Fellowship
University of Texas MD Anderson Cancer Center
Biography
Devoted to the cutting edge of medicine – and every patient's quality of life
From Princeton undergrad to Baylor med student to MD Anderson fellow, Dr. Paschalia M. "Lina" Mountziaris has set – and met – high standards in her training as a plastic and reconstructive surgeon. Now at VCU Health, she is uniting a commitment to complex surgical care with a deep commitment to the patients she treats.
"The opportunity to work in multidisciplinary teams really drew me to VCU Health," Dr. Mountziaris says.
Her academic work reflects such an approach: She earned a combination Ph.D. in bioengineering and a medical degree through the Medical Scientist Training Program at the Baylor College of Medicine and Rice University in Texas. The curriculum emphasizes a practitioner's potential in clinical care and scientific contribution.
Dr. Mountziaris' fellowship at the prestigious MD Anderson Cancer Center focused on complex reconstruction and microsurgery. Her clinical interests include treating deformities caused by trauma or cancer, including through the use of microsurgical flaps.
"Reconstructive plastic surgery is about physical recovery and social recovery – a chance to improve a patient's quality of life," she says. "I look forward to using my extensive training to help restore a more normal appearance and function for patients who face deformities from accidents, genetic mutations, cancer and other diseases."
Dr. Mountziaris has delivered presentations at the 2019 American Association of Plastic Surgeons conference (optimizing patient care after breast reconstruction) and the 2020 American Society of Reconstructive Microsurgery (on blood clot prevention in patients undergoing DIEP flap breast reconstruction, a muscle-sparing technique that uses fat, skin and blood vessels harvested from elsewhere on the body).
"My specialty is challenging because of the array of deformities I address and the unique needs of each patient," Dr. Mountziaris says. "I bring my artistic sense and my compassion to each case. I want my patients to be fully informed of their options, and I want them to know that I'll be their partner."
Advice to new patients: "Ask questions and be an active participant in your own healthcare. As providers, we are here to help you understand your conditions and provide the newest and best ways to manage them."
Outside Interests: Spending time with family, enjoying the outdoors – and sampling new restaurants.