Back to search results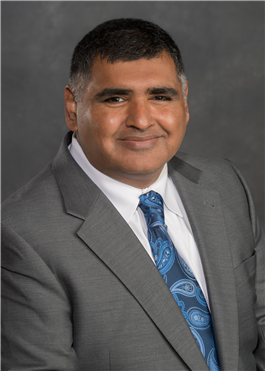 Naveed A Naz, MD
Education
Medical School
Uniformed Services University of the Health Science
Residency
Tripler Army Medical Center
Fellowship
National Capital Consortium
Biography
Soldier or civilian, the same level of treatment
Dr. Naveed Naz is a combat veteran of the U.S. Army, where he served as both an internist and later a cardiologist at Fort Bragg, N.C. As a military physician, Dr. Naz gained deep experience diagnosing and treating highly trained soldiers and athletes.
"I quickly had to learn about exercise physiology in an athlete and apply these principles to their care with the goal of preserving the fighting force," he says. "I wanted to provide thorough and compassionate care for my fellow soldiers and give them every possible avenue to pursue a full and productive military career by optimizing their cardiovascular status."
And that's the same approach he brings to athletes, active individuals, and everyday civilians under his care at VCU Health: "I wish to provide them every opportunity to pursue an athletic career or go about their lives safely with minimal risk to their heart."
At VCU Health, Dr. Naz is taking his disciplined military experience and building a vibrant sports cardiology program, catering to professional and student-athletes along with active individuals to diagnose and treat their known or undisclosed heart problems.
As a general noninvasive cardiologist, Dr. Naz sees patients who are experiencing a range of symptoms such as chest pain, palpitations, feeling faint, difficulty breathing, swelling and weight gain. He treats those who have had no history of cardiovascular disease as well as patients with extensive medical issues that require routine follow up.
"I want every patient to feel involved and invested in their own care," Dr. Naz says, his goal: reduce your suffering and increase your quality and quantity of life. "My hope is that each person understands the core principles of their pathology (the causes and effects of their disease) and that while nothing is guaranteed, we, together as a team, will pursue a course of action and treatment that is data driven, sensible, and in line with your goals and expectations."
Advice to patients: "Establish attainable goals and continue to progress upwards in terms of exercise, weight loss, risk factor modification and treatment."
Research Interests
Dr. Naz is exploring COVID-19 effects on return-to-play decisions for athletes and assessing how the infection may alter future risk of plaque rupture and myocardial infarction. What does it mean if a patient had COVID-19 and wants to resume jogging, hiking, doing yoga and other activities? The concern transcends sports: In a small study published by the Journal of the American Medical Association, researchers found abnormalities in the hearts of 3 in 4 people who had recently recovered from COVID-19 and "ongoing myocardial inflammation" in more than half.
Clinical Interests
Cardiac Imaging; Transesophageal echocardiography (TEE); Sports Cardiology