Back to search results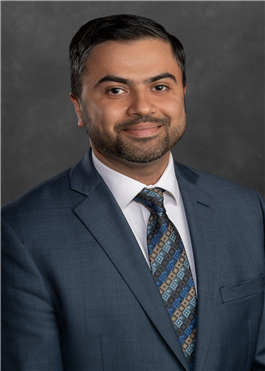 Nauman Manzoor, MD
Otolaryngology
Pediatric Otolaryngology (ENT)
Pediatric Cochlear Implant Center
Education
Medical School
Aga Khan University Hospital
Internship
University Hospitals Cleveland Medical Center
Residency
University Hospitals Cleveland Medical Center
Fellowship
Vanderbilt University Medical Center
Biography
Attuned to our ears – and our equilibrium
The human ear allows us to do more than hear. It literally keeps us in balance. For Dr. Nauman Manzoor, the ear's expansive impact on our quality of life – from communication to physical stability – inspires him to explore the frontiers of his specialty.
Dr. Manzoor is a double board-certified otolaryngologist – an ear, nose and throat specialist – with advanced subspecialty training in otology-neurotology and skull base surgery. His expertise includes surgical restoration of hearing and minimally invasive ear surgery, which yields faster recovery and improved aesthetics.
At VCU Health, Dr. Manzoor is focused on expanding hearing restoration services (including cochlear implantation, bone-anchored implants and other middle-ear surgeries) and surgery for skull base tumors (such as acoustic neuromas, paragangliomas and other conditions such as cerebrospinal fluid leaks).
He is also offering minimally invasive otologic and skull base surgery including developing an endoscopic ear surgery program at VCU Health.
"Being a team player is essential," he says. "Audiologists, speech therapists, neurosurgeons, neurologists and vestibular therapists are essential to our collective success in treating patients with hearing and balance disorders."
Among conditions Dr. Manzoor commonly treats are ear drum perforation and infection, hearing loss and surgical restoration for all ages, facial nerve disorders (including Bell's palsy), skull base tumors, and dizziness or vertigo related to inner ear disorders (such as Meniere's disease).
Dr. Manzoor is widely published, with more than 50 peer-reviewed indexed publications and book chapters. He also is interested in population-level hearing health and equity.
"Knowing that my expertise can help people hear and communicate better is a true joy," Dr. Manzoor said. "And I feel blessed to be part of robust national and international societies where we are always pushing to research and innovate."
Advice to patients: "Research your condition so you can ask me good questions. I want to do more than treat and manage your condition – I want to help educate you and inform you of the possibilities and outcomes, so you can make the best decisions."
Clinical Interests
Acoustic neuromas
Benign positional vertigo
Bone anchored hearing solutions
Carcinomas involving ear and lateral skull base
Cerebrospinal fluid leaks
Cholesteatoma
Chronic ear disease
Cochlear implantation
Ear drum perforation
Ear pain
Endoscopic ear surgery
Facial nerve disorders
Hearing loss
Hearing restoration surgery
Meniere's disease
Meningioma
Neurotologic surgery
Otosclerosis
Skull base tumors
Superior semicircular canal dehiscence
Temporal brain hernias
Tumors of the ear
Temporal bone and skull base
Vestibular disorders
Vestibular migraine
Vestibular schwannoma