Back to search results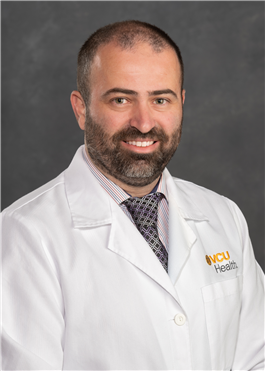 Naser Abdelhadi, MD
Locations
Education
Medical School
American University of Antigua College of Medicine
Internship
Detroit Medical Center GME
Biography
Putting patients first while putting them on the road to better health
Dr. Naser Abdelhadi is as an advocate for each and every one of the patients in his care.
Part of the team of physicians at the VCU Health Pauley Heart Center, Dr. Abdelhadi always puts the needs of his patients first when treating them.
"Almost all patents at the Pauley Heart Center have advanced or end-stage heart disease," he says. "Through hard work and expertise, I strive to overcome each health challenge."
He cares for patients who have a history of heart attacks, high blood pressure, diabetes, high cholesterol, irregular heartbeat, and other conditions.
Dr. Abdelhadi came to the Pauley Heart Center with experience caring for underserved patients and is well-versed in dealing with healthcare disparities. He also has a background in cardiology research and has focused much of his time studying the detection of endothelial dysfunction, a form of coronary artery disease.
Prior practicing at VCU, Dr. Abdelhadi was a resident at Rutgers Health in Newark, New Jersey.
"I'm here to make a positive impact on patient's lives by helping them heal and feel better," Dr. Abdelhadi says. "I treat each patient with respect and empathy while providing them the excellent care they deserve."
And he's there to answer each patient's questions as they weigh the decisions impacting their own care.
"My approach as a physician is to always be honest," he says. "Patients deserve to have a full picture of the health issues they're facing as well as the autonomy to decide on how to treat them."
When he's not caring for patients, Dr. Abdelhadi minds his own heart health by hiking, and he enjoys sports like soccer, swimming, volleyball and ping-pong.
Advice to patients: "Understand that physicians are here for you, and we use all our knowledge and experience to help you get better. Don't hesitate to ask any question or to raise any concern. I want you to understand the disease you're facing. By following your doctor's recommendations, you're doing your part to get better."