Back to search results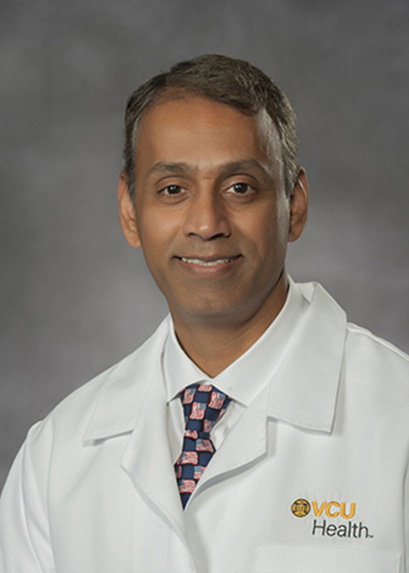 Mohammed A Quader, MD
Education
Medical School
Kakatiya Medical College
Residency
Yale University School of Medicine
Fellowship
Cleveland Clinic
Biography
Performing any and every heart surgery with care, compassion — and confidence.
After more than two decades of experience as a heart surgeon, Dr. Mohammad Quader has seen it all and certainly possesses the skills required to perform any possible heart surgery procedure. But what truly sets a cardiothoracic surgeon apart, he says, begins at the bedside.
"When I walk in the room and meet my patient for the first time, I want them to be reassured that everything humanly possible will be provided to them while they are under my care," says Dr. Quader, surgical director of the heart transplantation program at VCU Health Pauley Heart Center. "I want them to know that I care for them and also for their family. Being a good heart surgeon means being sincere, caring, confident, and showing humanity."
And, to be sure, it absolutely requires significant education and skill. Dr. Quader is part of a highly specialized complex cardiac surgery team at Pauley Heart Center, treating patients from all walks of life, from every corner of the Commonwealth.
He is a specialist in high-risk heart surgeries, and performs both open-heart and minimally invasive procedures. Which particular surgeries? All of them: for advanced heart failure, coronary bypass, atrial fibrillation, valve repairs, or inserting mechanical circulatory support devices. He has additional subspecialty training in heart valve surgery and transplantation, and is called upon regularly by Pauley Heart Center to perform heart transplantations.
"At VCU, we are expanding the horizons of offering heart transplantation as an option to patients who were otherwise not considered candidates for heart transplantation," he says.
Yet even with his advanced knowledge of the heart, Dr. Quader admits that he doesn't know everything about the human body – which is why he and every physician at VCU Health collaborate regularly to provide multi-disciplinary, individualized care to each patient. "At VCU, every member of the team brings their own expertise and works in collaboration to bring the best out of one other, and in turn contribute to the well-being of our patients," he says.
And when the personalized plan is in place, and the day of surgery arrives, Dr. Quader gives every patient his undivided attention. "Heart surgeries are long procedures, and some of them go on for over 12 hours," he says. "To endure both physical and emotional toil, one has to take care of themselves. I do pay attention to taking care of myself so that I can give 100 percent of my energy and efforts to patients."
And when it's over: "It gives me a tremendous satisfaction to help another human being, especially when they are very ill and are in need of very special surgical skills to make them better," he says.

Advice to patients: "Not everything that happens to a human body is under our control. However, when you do see an opportunity that is in your control, such as diabetes, high blood pressure, or obesity, do acknowledge ownership and work with the medical team to do your part. Change comes only after acknowledging a need to change. Set up small and practical goals to achieve; in time, the results will become the driving force to excel on that path."
Research Interests
Understanding the damage to the heart that happens at the subcellular level, which can be amenable to intervention. He and his team are working to preserve hearts outside of the body for a longer duration to facilitate more heart transplantations. "I constantly search for ways to do things better," he says. You can read some of his research work on NCBI's website here.
Clinical Interests
Adult cardiac surgery; Advanced heart failure surgery; Mechanical circulatory support devices; Heart transplantation; High-risk cardiac surgery; Minimally invasive heart surgery; Atrial fibrillation surgery; Coronary bypass surgery; Valve repairs