Back to search results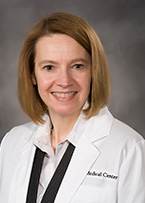 Mary Ann Peberdy, MD
Locations
Education
Medical School
Temple University School of Medicine
Internship
Medical College of Pennsylvania Hospital
Residency
Medical College of Pennsylvania Hospital
Fellowship
Medical College of Pennsylvania Hospital
Biography
A native of Philadelphia, Pennsylvania, Dr. Peberdy moved to Richmond in 1993 to join the faculty of the Medical College of Virginia at Virginia Commonwealth University, where she is currently a Professor of Medicine and Emergency Medicine. She is also the Director of the Advanced Resuscitation, Cooling Therapeutics, and Intensive Care (ARCTIC) post cardiac arrest program and the Medical Director for the hospital based code team rapid response teams.
Prior to her arrival, Dr. Peberdy was on faculty for several years as Assistant Professor, Director of the Coronary Care Unit and Associate Director of the Cardiac Catheterization Laboratory at the Medical College of Pennsylvania.
Dr. Peberdy's research and clinical interests include resuscitation, congestive heart failure, ischemic heart disease, and acute cardiac care. During her career, she has been either principal or co-investigator on numerous externally funded research projects through both the National Institutes of Health and industry grants. Dr. Peberdy has authored or co-authored over 140 research papers in highly respected professional journals and has served as session chair, panelist and abstract reviewer at a number of national professional meetings. She serves as editorial reviewer for the journals Resuscitation, JAMA, NEJM, Critical Care Medicine and Circulation and is a member of the Editorial Board of Resuscitation. She also serves as media expert on a number of cardiology issues in local and national print, radio and television news. Dr. Peberdy is a founding physician of the American Heart Association's National Registry of CPR, which houses the world's largest database for in-hospital cardiac arrest. She is the Past-Chair of the Registry's Scientific Advisory Board and currently serves as Co-Chair of the Research Task Force.
Dr. Peberdy is a fellow of the American College of Cardiology and the American Heart Association. She is also a member of the AHA National Advanced Cardiac Life Support Subcommittee, and is an author of the last three sets of international resuscitation guidelines. Dr. Peberdy is equally active on the MCV Campus of VCU where she has serves as Chairman of the Emergency Response Committee Committee, and sits on several other hospital and University committees.