Back to search results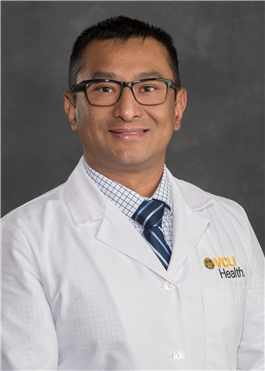 Manish Pradhan, MD
General Internal Medicine
Hospitalist
Locations
Education
Medical School
Guangxi Medical University
Internship
New York Medical College, Metropolitan Hospital Center Program
Residency
New York Medical College, Metropolitan Hospital Center Program
Biography
Finding fulfillment in seeing patients get better
Manish Pradhan keeps a watchful eye on the progress each of his patients are making during their stay in the hospital.
And one of the things he enjoys seeing most is patients going home once they get better. "This is why I chose to become a hospitalist," he says.
Pradhan is a doctor at the Division of Hospital Medicine who brings in-depth knowledge treating pneumonia, COPD, heart failure, diabetes, kidney failure, and many other conditions experienced by patients admitted to the hospital. He is also a member of a team caring for patients through VCU's Home Hospital Program, which offers people with certain conditions the option of receiving hospital-level care right in their own home.
He talks with patients about their questions and concerns, orders tests to assess their needs, and then creates a treatment plan to get them well so they can head home to provide the best possible patient-centered treatment in the hospital.
As technology advances, Pradhan believes telemedicine and hospital-at-home programs like the one at VCU represent the future of hospital care. With Home Hospital, he's part of a care team that includes nurses, physical therapists, social workers, and other healthcare professionals who collaborate to provide the best possible patient-centered treatment out of the hospital.
Originally from Nepal, Pradhan went to medical school in China under a Nepalese government scholarship and completed his residency there, before continuing his work in the field at New York Medical College's Metropolitan Hospital Center Program. In addition to his background treating a wide range of medical conditions, he fluently speaks five different languages: English, Nepalese, Mandarin Chinese, Hindi, and Urdu.
Beyond his work caring for patients, Pradhan also enjoys delving into research to unlock new insights in the field on how to improve care and deliver better health outcomes.
Advice to patients: "Be proactive and informed about your health. Make sure to communicate effectively with your healthcare providers, ask questions, and stay engaged with your care. Know your treatment options and what to expect. Stay positive, hope for the best, and have a good attitude because that helps the healing process. Remember that you're not alone in this journey."
Research interests: Studies focused on improving medical care, reducing medical errors, improving patient outcomes, telehealth, remote monitoring and virtual consultations.