Back to search results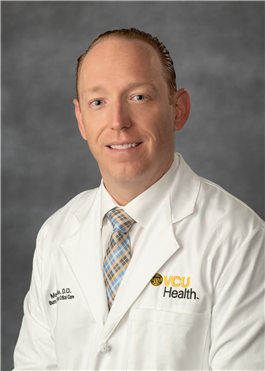 Mack Drake, DO, FACS
Plastic and Reconstructive Surgery
Locations
Education
Medical School
Pikeville College School of Osteopathic Medicine
Internship
Vanderbilt University Medical Center
Residency
Vanderbilt University Medical Center
Residency
Virginia Tech Carilion School of Medicine
Fellowship
University of Kentucky Chandler Medical Center
Fellowship
Grady Memorial Hospital Burn Center
Biography
In a constant state of readiness to help burn survivors
Dr. Mack Drake's role as a burn surgeon is to provide patients world-class care as he helps them through a difficult time of their lives.
"Every day is a challenge — we never know what is going to come through the door," Dr. Drake says. "Confidence, humility, critical thinking and decision making and the ability to effectively respond to any clinical situation that presents to our team makes every day different."
"We operate in a state of constant readiness," he says.
Dr. Drake is the associate medical director at the Evans-Haynes Burn Center at VCU, which cares for upward of 450 children and adults each year. Evans-Haynes is verified by the American Burn Association as a Level I adult and pediatric burn center and, founded in 1947, is the oldest civilian burn facility in the U.S.
A burn surgeon uniquely trained in both trauma and surgical critical care, Dr. Drake's area of expertise includes acute (urgent) burn care, reconstruction, scar modulation/wound care, and treating patients who have suffered traumatic injuries. His work spans VCU Health's Plastic Surgery Division and our Division of Acute Care Surgical Services. As part of that effort, he collaborates with a multi-disciplinary team of fellow physicians, nurses, pharmacists, rehabilitation therapists, social workers, and learners — all helping to optimize the patient experience and outcomes. "VCU offers an opportunity for me to care for patients at the highest level – at a nationally accredited burn and trauma center under the same roof," says Dr. Drake.
He comes to VCU Health with a research background, as well as extensive experience teaching medical students, resident physicians, and fellow doctors. Prior to joining VCU, Dr. Drake was a burn surgeon and clinical assistant professor of trauma and acute care surgery at Vidant Medical Center in Greenville, N.C. He has served as lead author on numerous published studies in clinical journals and given dozens of presentations to residents and physicians in both national conferences and grand rounds.
"I'm excited about helping our burn and trauma centers collaborate and extend our reach and ability to care for the most injured patients," Dr. Drake says. Part of his role, he notes, is getting out in the community and teaching referring doctors and providers about the burn care offered at Evans-Haynes. "We can improve the burn patients' experience at even the most basic level."
Dr. Drake is also helping develop a more robust telehealth capability to help patients who live hours away from the burn center, a program that has only grown in the wake of the COVID-19 pandemic and one that will continue long after.
Advice to patients: "Take interest in your own health before you get injured. If a serious illness or injury does happen to you, be sure to communicate effectively and ask your providers for a care plan that you all agree upon."
Research Interests
Critical care optimization of the potential organ donor, trauma and burn frailty and outcome measures, remote burn care in a medically underserved region, optimization of pain control and cosmesis at split-thickness autograft sites.