Back to search results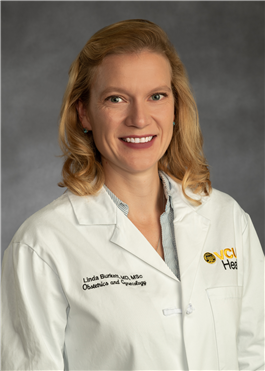 Linda S Burkett, MD
Pelvic Health
Urogynecology
Female Pelvic Medicine and Reconstructive Surgery
Obstetrics and Gynecology
Locations
Education
Medical School
Virginia Commonwealth University School of Medicine
Residency
Georgetown University School of Medicine
Fellowship
UPMC Magee-Womens Hospital, Pittsburgh, Pa.
Biography
A doctor whose greatest reward is rebuilding her patient's confidence
Linda Burkett, M.D., MSc cares for patients with pelvic floor disorders — and in doing so, helps them live healthier and happier lives.
Dr. Burkett is a urogynecologist on the Pelvic Health team at VCU Health. She treats a wide range of diagnoses related to the female pelvic floor, such as urinary leakage and incontinence, pelvic organ prolapse, anal incontinence, urinary tract and bladder infections, and many others.
"Many patients who are coping with these types of conditions shy away from activity or intimacy, and are even embarrassed to talk about it with a doctor. But they shouldn't be," Dr. Burkett says. "Being able to give someone their confidence back is the greatest gift. My field is so rewarding because we offer patients tools that greatly improve their quality of life."
To restore that confidence, Dr. Burkett uses a wide range of treatments, including physical therapy, medications, and minimally invasive surgery — all of it centered on "whole body health."
She's also an avid researcher in the field of female pelvic health and reconstructive surgery. Dr. Burkett has co-authored numerous articles for medical journals and plans to pursue further research that improves the treatment and diagnosis of pelvic floor disorders.
She knows being a good listener is vital when treating patients because the issues she treats are sensitive — be it pelvic or vaginal conditions, rectal disorders, maternal birth injuries, or LGBTQ+ care. It's why she gives patients the safe space they need to feel secure discussing their concerns and goals. Such open communication allows Dr. Burkett and her patients to find the best possible path to a better life.
"It is extremely important to me that all my patients feel respected and heard," she says.
Advice to patients: "We are here to listen and to help. Please come speak with our team. We have the unique ability to combine treatment options that provide the care that leads you to better health."
Research Interests: Biomechanics of maternal birth injury, using non-invasive ultrasound to better aid diagnosis and treatment, medical device innovation, machine learning and risk assessment models in healthcare, and lichen sclerosus
Clinical Interests
Female Pelvic Medicine and Reconstructive Surgery; Pelvic Organ Prolapse; Urinary Incontinence; Fecal Incontinence; Overactive Bladder; Urinary Tract Infections; Defecatory Dysfunction; Sexual Dysfunction; Maternal Birth Trauma; Vesicovaginal/Rectovaginal Fistulae; Vulvar Disorders; Complex Pelvic Surgery