Back to search results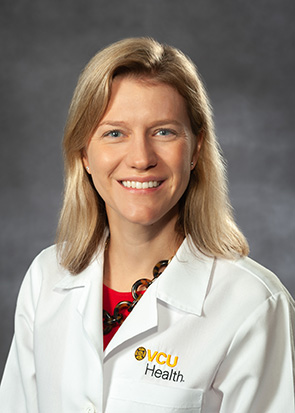 Kelly G Gwathmey, MD
Education
Medical School
Eastern Virginia Medical School
Residency
University of Virginia
Fellowship
University of Virginia (clinical neurophysiology), Brigham and Women's Hospital and Massachusetts General Hospital (neuromuscular)
Biography
Fostering relationships and treatments in neuromuscular health
For Dr. Kelly Gwathmey, becoming a neurologist came naturally not only due to a fascination with neuroscience, but an enjoyment of interacting with people. Compassionate care, an understanding of human biology, and a friendly bedside manner are essential for a physician who treats peripheral nervous system conditions and autoimmune diseases.
Fellowship-trained in clinical neurophysiology and neuromuscular disorders, Dr. Gwathmey is one of the more recent additions to VCU Health's fast-growing Neuromuscular Division. "I feel very fortunate to be a part of this amazing group," she says. "We all bring our own individual strengths to the division."
An initial visit with Dr. Gwathmey includes taking a thorough medical history, a neurological exam and, usually, an EMG (electromyography) procedure. An EMG is the primary tool used to diagnose neuromuscular disorders. In our multidisciplinary clinics, Dr. Gwathmey is able to partner with speech, physical, occupational and respiratory therapists for patients who require a full spectrum of care.
Dr. Gwathmey is also an assistant clinical professor of neurology at the VCU School of Medicine and is enthusiastic about the evolution of treatment options in the neuromuscular field. "There are many new medications for neuromuscular diseases, some of which were previously untreatable," she says. "It's extremely exciting to see so much progress in understanding the underlying functions of these diseases and in their drug development in such a short amount of time."
Dr. Gwathmey has treated some of the same patients in Virginia for over a decade, and enjoys building relationships and getting to know them and their families. If you are seeing her for the first time, can expect her listen and understand your concerns and symptoms. She believes learning your story can be helpful in creating a personalized care plan.
When Dr. Gwathmey isn't caring for her neuromuscular patients, the Richmond native enjoys hiking and exploring Virginia and beyond with her husband and two children.
Research interests
Dr. Gwathmey's research interests include studying quality of life instruments in neuromuscular diseases, as well as participating in clinical trials for specific conditions such as myasthenia gravis in addition to inflammatory myopathies and neuropathies.