Back to search results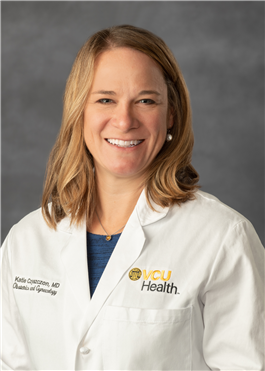 Katherine Czyszczon, MD
Obstetrics and Gynecology
Pelvic Health
Women's Health
Locations
Education
Medical School
VCU School of Medicine
Residency
VCU Medical Center
Biography
Dedicated to women in every phase of life — and a commitment to excellence in their surgical care
Every woman comes from a different background. You communicate differently than she does. We all offer unique life experiences, have different goals, and face own our personal challenges.
Dr. Katherine "Katie" Czyszczon keeps all these things in mind as an OB-GYN caring for women of all ages.
"We have all witnessed so many national crises and together experienced a life-altering global pandemic that has laid bare the inequality in our own communities. I feel my role as a physician has really taken on a whole new layer of responsibility in caring for others and addressing social disparities," says Dr. Czyszczon ("Sizz-on"). "Being part of the team at VCU Health to help resolve healthcare disparity, in particular, is a challenge that I am honored and excited to take on."
She also appreciates that every woman is unique, and therefore requires personalized treatment for their own health needs. "Every woman I see has a different set of expectations and goals regarding their health," she says. "Within VCU Health's Women's Health Team, women experience a culture of teamwork that extends from your care team to you. It is always a positive interaction here."
Dr. Czyszczon's work includes caring for women before, during, and after pregnancy (obstetrics), as well as more general healthcare for women (gynecology). She has a special focus on minimally invasive pelvic surgeries, as is often required when women are living with endometriosis, uterine fibroids, heavy menstrual bleeding, or adenomyosis. These pelvic tissue-related disorders can be extremely painful but are treatable.
After years in independent practice, she joined VCU Health and its School of Medicine — her alma mater — to get into education of young doctors and to "be around people who expect excellence every day, with every patient, with every outcome." VCU also offers her the opportunity to take on some of the region's most complex women's health cases and see patients from the Richmond region's most vulnerable communities.
And no matter the woman on the other side of the door, she approaches every patient with authenticity. "I cannot help but be my true self with every interaction, and I think patients sense that," she says. "I am earnestly trying to make the best decisions, give the best advice, and perform to my best ability every day I show up to work."
Advice to patients: "Bring a friend or family member, ask questions even if they feel uncomfortable, and sign up for the portal so that if a question comes up later you can just send a quick message to get an answer. Trust your instinct about your doctor — and if they don't feel like the right person for you, no worries! Get a second opinion."
Research Interests: Studying perioperative techniques to improve surgical outcomes and patient safety, as well as examining existing standards in testing to ensure ongoing clinical utility.
Minimally invasive surgical procedures to relieve pelvic pain.
Clinical Interests
General obstetrics and gynecology; Minimally invasive gynecology surgery