Back to search results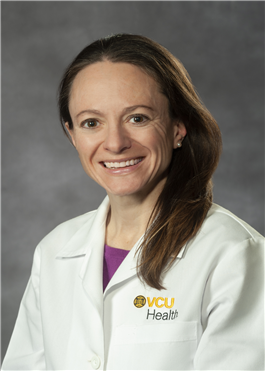 Jordana Kron, MD
Locations
Education
Undergraduate
Princeton University
Medical School
Johns Hopkins University School of Medicine
Internship
Johns Hopkins University School of Medicine
Residency
Johns Hopkins University School of Medicine
Fellowship
University of Florida College of Medicine
Biography
Dr. Kron joined the electrophysiology group of VCU Pauley Heart Center in 2008 as Assistant Professor of Internal Medicine, Cardiology.
Her research interests include cardiac sarcoidosis, management of atrial arrhythmias, cardiac resynchronization therapy for treatment of heart failure in elderly patients, and management of arrhythmias in pregnant patients. Her research has been published in the Heart Rhythm, Europace, Journal of Interventional Cardiac Electrophysiology, Clinics in Geriatric Medicine Journal and Heart Failure Clinics Journal.
Dr. Kron has written editorials for the Journal of the American College of Cardiology and Circulation: Arrhythmias and Electrophysiology. She has given poster presentations at Heart Rhythm Society, American Heart Association, and the Heart Failure Society of America meetings. Dr. Kron is a founding member of the Cardiac Sarcoidosis Consortium and a member of the writing committee for the Expert Consensus Statement on the Management of Arrhythmias Associated with Cardiac Sarcoidosis.
Clinical Interests
Cardiac Arrhythmias; Electrophysiology; Implantable Cardioverter Defibrillators; Sarcoidosis