Back to search results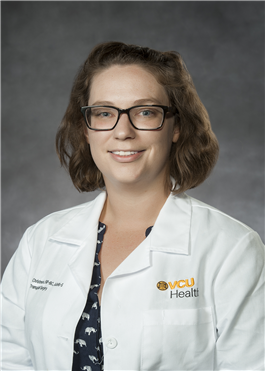 Johanna Christensen, FNP
Nephrology
Transplant Surgery
Locations
Education
Nursing School
Columbia University School of Nursing
Biography
Responding to the unique health needs of transplant patients
When patients encounter health challenges following a kidney transplant, Johanna Christensen, FNP, is there to help them.
As a family nurse practitioner, Johanna wants to see her patients get better and stay better, so they can enjoy their lives.
"I'm always excited to help patients with complex medical conditions achieve the best quality of life," says Johanna, a member of the provider team at the Hume-Lee Transplant Center.
She helps treat people who have infections that arise following their transplant, and she manages and monitors immunosuppression to protect the patient's new organ from the body's immune response. She also treats them for high blood pressure and other chronic conditions.
Johanna says a key part of working in the transplant field is having a "never-ending curiosity," and she's committed to staying up-to-date on the latest developments on how to manage and treat kidney disease. She also takes part in cutting edge studies, including research into the effectiveness of COVID-19 vaccines in transplant patients.
She was drawn to her role as a family nurse practitioner out of a desire to help patients from all walks of life and all ages, young and old. She joined VCU Health in 2016 after launching her career in New York where she worked in some of the most challenging medical settings.
The care she provides is built upon open and honest dialogue with each patient she sees. She says that type of camaraderie is the key to managing and caring for their specific health care needs. She tells patients to never think twice about asking her or other members of their medical team the questions that lead to better understanding about their treatment — and better health.
"I want to understand the challenges each patient faces, so that I can help," she says.
"Never hesitate to ask questions of your provider and express your needs for communication. If you don't understand your treatment or management plan, have an open and honest conversation with your provider."
Managing immunosuppression in kidney transplant patients, research into diseases like COVID-19 and BK viremia in transplant patients, and empowering patients to use technology and other resources to ensure they have the best possible outcomes.