Back to search results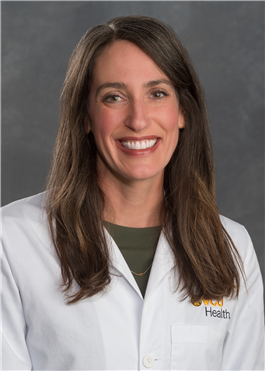 Jennifer Lesko, MD MPH
Obstetrics and Gynecology
Education
Medical School
Weil Medical College of Cornell University
Residency
McGaw Medical Center of Northwestern University
Fellowship
Harvard Medical School
Biography
Empowering care, built on collaboration and respect
Jennifer Lesko, MD, MPH, is here to empower patients through every part of their reproductive lives. She's here as their OB-GYN for contraceptive needs or when they're giving birth. She's also there for early pregnancy loss, postpartum or menopause, and "all those moments in between," she says.
"It takes a tremendous amount of empathy and understanding to be an OB/GYN. We are part of such personal and private moments: preventative gynecology exams, confirming a pregnancy or the end of one, soothing a patient in labor, and educating about menopause," Lesko says. "Each person has unique reproductive choices and concerns, and it's our responsibility to reduce stigma and to respect each patient's values and beliefs."
Lesko, part of the Women's Health Team at VCU Health, says these many reproductive phases are each relatively short, but have lasting impact on a person's life. "it's incredibly rewarding to be a part of my patient's lives during these various times," she says.
She specializes in supporting those who have pregnancies that don't go according to plan." These moments can be among the most stressful that a patient and their family goes through, and it's of the upmost importance to have support along the way," Lesko says. "We not only assess the patient's medical needs but offer support by providing mental health and spiritual services as well as opportunities to commemorate the loss."
Lesko also collaborates with patients about contraception methods that allow them to choose when and if to become pregnant, she says. Contraception also has non-birth control benefits in many patients, she notes, adding it can be used to lessen the burden of heavy periods and to reduce risks associated with chronic conditions like Polycystic Ovarian Syndrome and epilepsy.
With a master's degree in public health and several teaching awards and Top Doc recognitions, Lesko is also passionate about mentoring and teaching the next generation of OB/GYN providers at the VCU School of Medicine. VCU Health's mission, culture and expertise were motivating reasons of her decision to join our team.
She believes her role as a physician educator is to model comprehensive, evidence-based care and sensitivity to patients' needs so they can make the best decisions for themselves and their families
"I want my patients to feel heard and respected. It's my job to lend my expertise to our conversations, but it is our shared responsibility to find the best course of action together," she says.
In her free time, Lesko enjoys skiing and hiking with her family, touring the Richmond area, hosting dinner parties and reading mysteries.
Advice to Patients: "We're here for you. Please ask us any and all questions. It is our job to ensure you feel safe and respected in all our interactions. You deserve to be informed and empowered with the information that you need to make the best medical decisions for you."
Research Interests: Abnormal pregnancy, reducing the risk of bleeding during miscarriage procedures, pregnancy outcomes in nulliparous women over 40, social determinants of health and effects on developing gestational diabetes.