Back to search results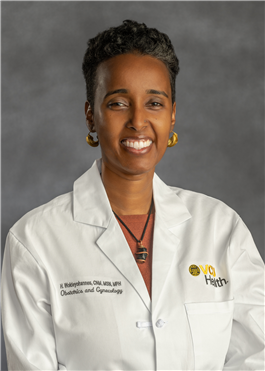 Haguerenesh Woldeyohannes, CNM
Education
Nurse Midwife Program
Emory University Nell Hodgson Woodruff School of Nursing
Nursing School
Emory University Nell Hodgson Woodruff School of Nursing
Master's Degree in Public Health
Tulane School of Public Health and Tropical Medicine
Biography
Celebrating her calling to support mothers as a midwife
Haguerenesh "Hagi" Woldeyohannes knows being a midwife is her true calling.
Woldeyohannes, a certified nurse-midwife, has served in many women's health roles in her career as a public health professional, nurse and midwife.
She's part of the Certified Nurse-Midwives at VCU Health, an essential childbirth team specializing in low-intervention, physiologic childbirth for low-risk women.
Woldeyohannes and the other midwives work to provide expectant mothers holistic, evidence-based childbirth as well as prenatal, postpartum, and well-woman gynecologic care.
"As a midwife and maternal health advocate, I strive to ensure equitable maternal and infant healthcare, particularly to underserved, underinsured and underinformed Black and immigrant communities."
Woldeyohannes, herself a mother with three sons, wants her patients to feel "heard, seen, held and safe" when they are in her care.
Prior to becoming a midwife, Woldeyohannes worked in global health and research translation. She earned a bachelor's degree in medical anthropology and then a master's degree in public health before attending nursing school. Woldeyohannes says her professional experiences influence the way she thinks about public health and advocacy.
"Advocacy is important to me. It's a big part of who I am," she says. "But midwifery is my soul, and I'm really excited to be nurturing that."
She enjoys working with VCU's diverse team of maternal health providers, and she is constantly learning from fellow midwives, OB-GYNs, maternal fetal specialists, and nurses.
Advice to patients: "1) Find a caregiver you feel safe with. This might be a combination of clinical expertise, bedside manner, and genuine care. Don't be afraid to shop around to find the right provider for you. 2) Your healthcare providers cannot do more for you than you are willing to do for yourself. Come into appointments with an open mind and a collaborative attitude (same advice goes to providers!). Be honest about what you are willing to do and the challenges you face, so you & your provider can create a realistic plan."