Back to search results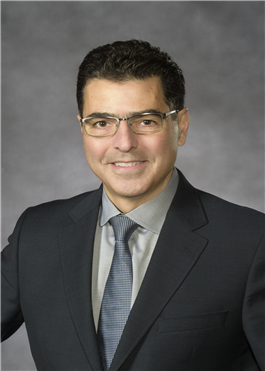 Guilherme M Campos, MD, FACS
Weight Loss Surgery
Gastrointestinal Surgery
General Surgery
Bariatric Surgery
Education
Medical School
Federal University of Parana, School of Medicine, Curitiba, PR, Brazil
Residency
General and Gastrointestinal Surgery, Hospital de Clinicas, Department of Surgery, Federal University of Parana, Curitiba, PR, Brazil
Residency
General Surgery, LAC USC Medical Center, Keck School of Medicine, Department of Surgery, University of Southern California, Los Angeles, CA
Fellowship
Gastrointestinal Surgery, Division of Gastrointestinal Surgery, Department of Surgery, Federal University of Sao Paulo, Sao Paulo, Brazil
Clinical Fellowship
Advanced Laparoscopic Surgery, Division of Minimally Invasive Surgery, Department of Surgery, University of Southern California, Los Angeles, CA
Clinical Fellowship
Esophageal Surgery, Division of Thoracic and Foregut Surgery, Department of Surgery, University of Southern California, Los Angeles, CA
Clinical Fellowship
Thoracic and Foregut Surgery, Division of Thoracic and Foregut Surgery, Department of Surgery, University of Southern California, Los Angeles, CA
Biography
An internationally respected surgeon with 'an undivided desire to help people'
Dr. Guilherme Campos' life's work is dedicated to helping people overcome esophageal and gastric diseases and clinically severe obesity. In practice since 1999 and globally recognized for his expertise in the field, Dr. Campos regularly performs advanced laparoscopic and endoscopic surgeries to treat upper gastrointestinal diseases, including gastroesophageal reflux disease (GERD) and its complications; esophageal and paraesophageal hernias; esophageal achalasia; gastric and duodenal diseases; and gallbladder, common bile duct and splenic diseases. He has expertise in all minimally invasive bariatric and metabolic procedures, including revisions of previous failed procedures.
"I have long had a fascination with the ability to cure gastrointestinal conditions, and I enjoy the undertaking of caring for patients who are suffering from it," says Dr. Campos. "My goal when treating all of my patients is that they achieve improved health and better quality of life. They should be comforted knowing that I have offered them nothing but the best of my knowledge and abilities. I have an undivided desire to help people in need."
A native of Brazil, Dr. Campos has seen his field evolve over the years as new technologies and procedures are made available. The introduction of minimally invasive therapies and improved diagnostic techniques are now a regular part of the surgeon's workload — although he doesn't do it all on his own, providing care through a multidisciplinary group of specialists and staff. As chair of the VCU Health Division of Bariatric and Gastrointestinal Surgery, he oversees a team that has become a Center of Excellence (meeting a high standard for quality and the cost of care) for all major payers in Virginia, and is certified by the American College of Surgeons as a Level 1 Bariatric Surgery Center.
"As a team, we have a deep understanding of how to manage foregut diseases and obesity," Dr. Campos says. "To successfully perform our work it does take a village, and together we help our patients go through investigation of their condition and gain the necessary knowledge to be successful in the long term."
His research interests focus on treatment outcomes after minimally invasive and endoscopic procedures for obesity, esophageal and gastric diseases. He has also studied the changes in glucose-regulatory mechanisms and fat-mass loss after bariatric surgery. He has authored or co-authored more than 120 peer-reviewed articles and chapters in books, is the associate editor for the medical journal Surgery for Obesity and Related Disorders (SOARD) ,and a member of the editorial board of the journal Obesity Surgery. He has performed live surgery demonstrations in numerous national and international meetings, and has presented his work at more than 170 national and international conferences.
Outside of his specialty, Dr. Campos is an avid runner, swimmer – and enjoys a properly done steak.
Certifications
Dr. Campos is board-certified in General Surgery and a fellow of the American College of Surgeons (FACS) and of the American Society for Metabolic and Bariatric Surgery (FASMBS). He is the President of the Virginia Bariatric Surgical Society and a member of the Society for Surgery of the Alimentary Tract (SSAT), Society of American Gastrointestinal Endoscopic Surgeons (SAGES), Central Surgical Association, Pacific Coast Surgical Association, Central Surgical Association, American Foregut Society, Society of Graduate Surgeons, and Society of University Surgeons, among others.
Clinical Interests
Bariatric/Weight Loss Surgery; Minimally Invasive Surgery; General Surgery; Esophageal/Gastric Surgery; Foregut Surgery; Hernia Surgery