Back to search results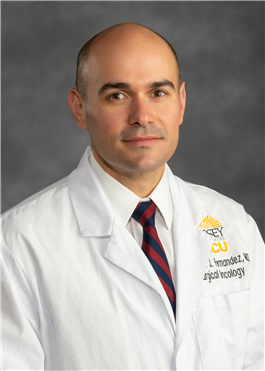 Leopoldo Fernandez, MD
Education
Medical School
Universidad Central de Venezuela, Escuela Luis Razetti
Residency
Massachusetts General Hospital
Fellowship
VCU Medical Center
Biography
Dr. Leopoldo Fernandez is a surgical oncologist at VCU Massey Cancer Center and assistant professor in the Department of Surgery's Division of Surgical Oncology at the VCU School of Medicine. He brings a wealth of knowledge and experience to the surgical oncology team, specializing in gastrointestinal cancers, including liver and pancreas, with expertise in minimally invasive surgery (laparoscopic and robotic) and intraperitoneal chemotherapy.
Dr. Fernandez is one of the few cancer care providers in the state to offer HIPEC (hyperthermic intraperitoneal chemotherapy) for the treatment of advanced abdominal cancers that have spread through the peritoneal cavity. This complex procedure involves cytoreduction surgery followed by a heated chemotherapy solution circulated throughout the abdominal cavity continuously for up to two hours. There is substantial evidence showing HIPEC is an effective treatment for several gastrointestinal cancers.
Dr. Fernandez has been published in a number of peer-reviewed journals and has presented at a variety of professional meetings, including the Academic Surgical Congress, the Society of Surgical Oncology and the American Association for Cancer Research. He is certified by the American Board of Surgery in both general surgery and complex general surgical oncology. He also obtained specific training in the management of peritoneal malignancies at Wake Forest Baptist Hospital.
Dr. Fernandez is a member of the Society of Surgical Oncology and the American Society of Clinical Oncology.
Clinical Interests
Peritoneal Surface Malignancies
Hepato Pancreato Biliary
Gastrointestinal Malignancies