Back to search results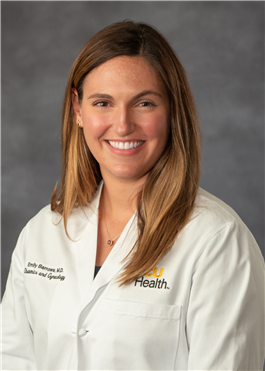 Emily Barrows, MD
Obstetrics and Gynecology
Women's Health
Locations
Education
Medical School
VCU School of Medicine
Residency
VCU School of Medicine
Biography
An OB/GYN helping women become advocates for their own care
To be the best OB/GYN one can be, Dr. Emily Barrows says one must recognize that it is the patient, not the doctor, who is the foremost expert in her own body. The physician's role, Dr. Barrows says, is to listen to those concerns with an open mind.
"I strive to really listen to my patients and make sure I am hearing and understanding their honest concerns and priorities, rather than projecting my own beliefs and priorities on them," says Dr. Barrows, an OB/GYN on VCU Health Women's Health team and assistant professor in the VCU Division of Obstetrics and Gynecology. Dr. Barrows joined VCU Health after completing her residency and medical degree at the VCU School of Medicine.
As an OB/GYN, Dr. Barrows sees women of all ages throughout their lifespan, helping them with both the routine and the complex in gynecologic care and women's health needs. Her work begins with helping young women through their first pelvic screening exams to advocating for new mothers through their pregnancies, deliveries, and the challenges of adjusting to the postpartum period.
"I look forward to helping my patients through the biggest moment of their lives and getting to know them and their families over the years," Dr. Barrows says.
In addition, she is specifically trained in minimally invasive surgery to help treat conditions such as abnormal uterine bleeding, endometriosis, uterine fibroids and ovarian cysts.
Dr. Barrows notes that too many women suffer in silence because they are embarrassed or ashamed to talk about a sensitive health matter — but it doesn't have to be that way. "You can, and definitely should, ask me any question you have, no matter how silly it feels or what the issue entails," she says. "Most likely I've heard it before, and if I haven't, I'll certainly hear it again in the future."
Though many treatments and conditions are common, OB/GYN remains a challenging field — understudied by researchers, and incompletely understood. "The nature of pregnancy is such that it is very difficult to create research studies that can safely and ethically investigate various treatments and medications, so we must use our best judgment based on data that has accumulated over time," she says. As an example: There has been hesitancy to include pregnant women in initial COVID-19 vaccine trials, which has created uncertainty regarding vaccine safety in pregnant women.
Women's health is a body of research she will contribute to in her own career, especially as part of her academic role in the VCU School of Medicine's Division of General Obstetrics and Gynecology. There, in addition to her own research, she is helping shape future obstetrician gynecologist students and residents — and enjoys "the opportunity for them to challenge me and keep me on my game!"
Advice to patients: "Speak up! Ask your questions. Tell us when you're uncomfortable, uncertain, or scared. We're here to take care of you, and we want to know what you're feeling so we can figure out the best way to help you."
Research Interests: Menopausal transition and how to help women maintain their best possible health and happiness through this transition.