Back to search results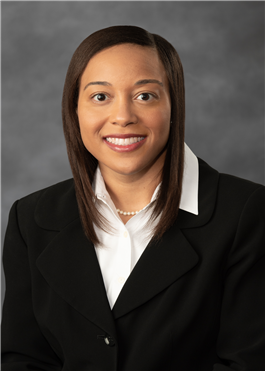 Denee Moore, MD
Locations
Education
Medical School
VCU School of Medicine
Residency
Bon Secours St. Francis Medical Center
Biography
On a mission to improve health for all in every community
One of the most unique aspects of being a doctor in a community like Richmond is the diversity of the neighborhoods. By extension, this means a diversity of patients, from one end of the health spectrum to the other. Economic and societal factors create different health outcomes depending on where people live, work, and play. Understanding these determinants of health, and using evidence-based medicine to treat them, is an evolving medical field known as population health.
And it's a field in which Dr. Denee Moore wants to take the lead. She's a physician on a mission: "Part of the reason I came to VCU Health is to make significant progress in reducing health disparities and inequities, particularly in underserved communities and those of color," says Dr. Moore, a VCU School of Medicine graduate who is board-certified in family medicine. "I have always wanted to improve the community in which I live, and using cutting-edge medicine is a great way to do that."
She came to Richmond from Charlottesville, where she was a family physician at a health center for the uninsured and underinsured. Working in family medicine, she sees patients of all ages from newborns to the elderly and treats an array of conditions. She has made health promotion and disease prevention an important part of her practice to help patients live healthier lives.
"Every day is full of variety," Dr. Moore says. "I may see someone with a sore throat, collaborate with a pharmacist and diabetic educator to help a patient gain better control over their diabetes, assist a patient and their family with end-of-life decisions, repair a laceration, or provide a patient with recommendations regarding cancer screenings and vaccines to stay healthy."
Staying proactive, especially when it comes to chronic conditions such as heart disease and diabetes, is a key component to improving the health of populations.
"I want VCU Health Family Medicine to become a national leader in the development and implementation of delivery models that place greater emphasis on improving the health of populations and give us, as doctors, the ability to find unique and creative ways to respond to our patients' needs, preferences, and resources," says Dr. Moore. She often collaborates with other physicians to create treatment plans that meet each individual's needs and personal values. "From those plans, it is rewarding to see patients go on to live healthy and productive lives."
Patient care is always on her mind, but she does make time to enjoy a game of tennis, swimming, skiing, and golf ("although I am not very good at it"). And stitching up small cuts isn't her only talent in the field of needles, either: she also enjoys cross-stitching, knitting, and crocheting.
Professional Affiliations
Diplomate, American Board of Family Medicine
Research Interests
Evidence-based medicine, quality improvement, health disparities and medical education