Back to search results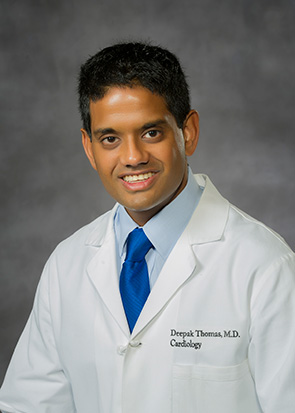 Deepak P Thomas, MD
Locations
Education
Medical School
VCU School of Medicine
Internship
Yale University School of Medicine
Residency
Yale University School of Medicine
Fellowship
Washington University / Barnes-Jewish Hospital (Cardiology)
Fellowship
University of Virginia (Interventional Cardiology)
Biography
Dr. Thomas joined the Pauley Heart Center in the summer of 2015 and serves on faculty as Associate Clinical Professor, specializing in interventional cardiology. He is Medical Director at VCU Health Colonial Square and is the main contact for the transplant nephrology division for coronary care of patients suffering from end stage renal disease. He performs cardiac catheterization and peripheral interventional procedures downtown at the MCV Campus, while also seeing patients in the outpatient setting in Colonial Heights. He is board certified in five disciplines: interventional cardiology, general cardiology, echocardiography, vascular ultrasound (RPVI), and internal medicine.
Born in Norfolk, Dr. Thomas graduated high school from Norfolk Academy. He received his Bachelor of Arts degree with Honors in Literatures & Cultures in English from Brown University in 2002 and was then awarded a full scholarship to Cambridge University in the United Kingdom, where he was only one of two Americans that year to receive a Master of Philosophy postgraduate degree in 18th-century British Literature. He returned to the U.S. and earned his M.D. from VCU School of Medicine in 2007, next completing his internship at Yale University in 2008 and his residency at Yale in 2010.
Before joining VCU in 2015, Dr. Thomas was an Assistant Professor of Medicine, practicing primary care as an attending physician at Yale-New Haven Hospital. He completed a fellowship in cardiology at Washington University School of Medicine and an advanced fellowship in interventional cardiology (level III peripheral vascular and coronary intervention) at the University of Virginia. Dr. Thomas is a Fellow of the Society for Cardiovascular Angiography and Interventions (FSCAI).
His volunteer medical work includes serving under Mother Theresa's Sisters of Charity in Calcutta, India, and providing volunteer medical outreach in inner-city St. Louis with Health Connection. During his time at Yale, Dr. Thomas was a Yale/Stanford Johnson & Johnson Global Health Scholar, manning a 50-person medical ward in Eritrea, East Africa. In 2018, Dr. Thomas and his family started a yearly scholarship for VCU School of Medicine.
Clinical Interests
Angioplasty; Echocardiography; Stress Testing; Peripheral Vascular Disease; Stents for Heart Disease