Back to search results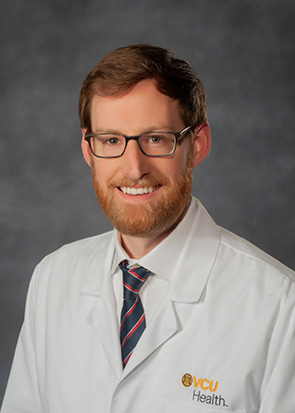 Daniel Newton, MD
Vascular Surgery
CMH Surgical Services
Education
Medical School
VCU School of Medicine
Internship
General Surgery, VCU Medical Center
Residency
General Surgery, VCU Medical Center
Fellowship
Vascular Surgery and Endovascular Therapy, Hospital of the University of Pennsylvania
Biography
Advancing medical treatment with new technology
For Daniel Newton, M.D., joining VCU Health meant coming home. A native of Richmond, he attended VCU's School of Medicine and completed his internship and residency here – then he left for specialized training at the Hospital of the University of Pennsylvania.
"VCU has the best technology, the best expertise, and treats the most complex patients in the region," he said. "As someone who wants to be on a winning team and wants to be challenged, it was an obvious fit."
For VCU Health, this means welcoming a dedicated surgeon in the field of aorta health – and Dr. Newton brings the surgical expertise and medical experience to make this a program sought out by patients for leading care. In addition to caring for vascular surgery patients, he also serves as the associate program director for the vascular surgery fellowship.
"Patients with problems of the aorta need specialized care to reduce the chance of needing surgery – and expert care when they do need surgery," he said. "We're streamlining the process and bringing new technology and techniques to the region."
Within the next five years, he expects the completion of new clinical trials that will further specialists' ability to treat vascular conditions in less-invasive ways. Within the next 10 years, he expects that therapies will include more medication-based interventions that will push the durability of vascular repairs to new levels.
At the most basic level as a vascular surgeon, Dr. Newton cares for patients who have problems with their blood vessels. That might mean surgically opening a blockage in an artery or repairing a tear in the aorta.
He also has specific training for endovascular therapy, an emerging field of innovative, less-invasive procedures. Those approaches commonly might be used to treat an aneurysm, a condition where the artery wall balloons out and can cause internal bleeding.
"Vascular surgery training gives you a total understanding of the vascular system and a full toolbox of ways to fix it," he said. "It lets you customize the treatment of each patient, instead of trying to fit a square peg into a round hole."
While about half of his week is spent in the operating room, what happens on a daily basis depends on his current patients. "The first patient might need a stent in an artery of the leg, the second patient is getting plaque removed from the carotid artery, and then an emergency case comes up – a patient with a tear in the aorta," Dr. Newton said. Once he leaves the OR, he'll check on his inpatients, then handle some administrative tasks or research. Before he heads home, he goes back to check on the surgical patients he saw earlier in the day.
Dr. Newton recognizes that many vascular conditions mean that he will be developing lifelong relationships with many patients, as he monitors their progress. To him, the best part of the job is seeing how well people are doing long after their procedures.
People come to him with complex and tough medical problems, and he opens each new case with a simple conversation with patients. Every bit of information they can share is important as he begins to develop a tailored treatment plan.
"I'm going to want to hear your story all over again, even if you've told it a thousand times before," Dr. Newton said. It's important to hear from you and find out what's important to you. If you have a scan or other imaging, we can look at it together. Then we'll go over the options – a procedure or surgery isn't always the right answer. Finally, I'll tell you what I'd recommend if you were my family, and then you can decide."
The biggest advice that he can offer patients is to lean on a family member or friend who can join them in appointments and provide ongoing support. "It's really hard to remember everything we might talk about, so they can help you take notes and remind you of questions you had been thinking about," he said. "If they can't make it to the visit, it's often a good idea to have your doctor speak with them over the phone – especially if you are going to have surgery."
Research Interests
Treatment of thoracic aortic diseases, long-term outcomes after aortic surgery and outcomes of vascular reconstructions during cancer surgery.
---
Clinical Interests
Aortic aneurysms; Aortic dissection; Carotid artery disease; Segmental arterial mediolysis and mesenteric artery dissection; Endoleaks; Peripheral Artery Disease (PAD); Minimally invasive endovascular stenting; Complex and re-operative vascular surgery; Vascular device infections; Thoracic Outlet Syndrome