Back to search results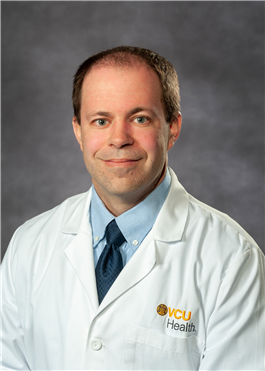 Daniel C Grinnan, MD
Pulmonary Disease and Critical Care Medicine
Education
Medical School
VCU School of Medicine
Internship
Duke University School of Medicine
Residency
Duke University School of Medicine
Fellowship
University of Virginia Health System
Biography
Listening, diagnosing, treating: A comprehensive, team approach to pulmonary hypertension
Dr. Daniel Grinnan is a pulmonologist specializing in pulmonary hypertension (PH), a rare condition that requires great communication with patients, a team approach to diagnosis and treatment, and a tireless dedication to researching advances in the disease.
A critical care medicine specialist with VCU Health and associate professor at the VCU School of Medicine Division of Pulmonary Disease and Critical Care Medicine, Dr. Grinnan says proper diagnosis of PH is an important first step to ensuring patients receive the best possible care — and it's a challenging first step.
"There are many different types of pulmonary hypertension, so it's really important to be diagnosed with the right type," Dr. Grinnan says, noting that some diagnostic tests are done incorrectly, which can lead to improper treatment. "At VCU Health, care for patients with pulmonary hypertension takes a comprehensive, multidisciplinary team approach."
Pulmonary hypertension is a serious disease of the lungs that leads to right heart failure, and it can be treated with advanced medication. It's a rare condition in which high pressure in the blood vessels of the lung causes a strain on the right side of the heart, leading to breathlessness, fatigue, and chest pain.
In addition to his wealth of experience and knowledge in pulmonary hypertension, Dr. Grinnan also prioritizes communication with patients as a top priority to proper care. That includes listening to patients and their families, making sure all of their questions are answered, and clearly explaining their condition and course of treatment.
VCU Health is recognized by the Pulmonary Hypertension Association as an accredited center for treatment of the disease. The health system has made major advancements in its program in recent years while focusing on both patient care and clinical research. Dr. Grinnan also has high hopes for growing graduates from the university's pulmonary fellowship who have developed a focus in PH.
Research interests
Developing new therapies for pulmonary hypertension and learning more about how care is delivered to those with pulmonary hypertension.
Clinical Interests
Pulmonary Hypertension; Pulmonary Fibrosis