Back to search results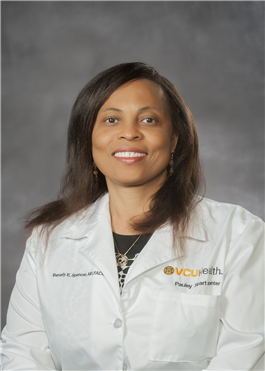 Beverly E Spencer, MD
Cardiology
General Internal Medicine
Locations
Education
Medical School
Harvard Medical School
Internship
Massachusetts General Hospital
Residency
Massachusetts General Hospital
Fellowship
University of Virginia Health System
Biography
As a child growing up in Portland, Jamaica, Dr. Beverly Spencer was fascinated by medicine and the complexity of the human body.
"My mother says that from the time I was able to talk, I told everybody that I was going to be a doctor. I was going around giving people injections with straws," she said with a laugh.
Today, Spencer is director of nuclear cardiology and the medical director of VCU Health at Colonial Square, a highly regarded community practice that joined the VCU Health Pauley Heart Center family in June 2016. She described the practice as a "close-knit group…more like family than co-workers" who are devoted to excellent patient care. She is a frequent lecturer who enjoys volunteering for community events.
While many of her patients come from Colonial Heights, Petersburg, Hopewell and Emporia, some have driven from as far as four to five hours away to see her.
"Our practice has been steadily growing," she said, sitting in a conference room at the office. "We offer full outpatient cardiology services here." Patients come to the practice for consultations, Holter and event monitoring, pacemaker and automatic implantable cardioverter-defibrillator monitoring, and cardiac imaging, including cardiac ultrasounds and nuclear imaging. The practice hopes to add 3D echocardiogram technology very soon.
"My mother says that from the time I was able to talk, I told everybody that I was going to be a doctor. I was going around giving people injections with straws," Spencer said with a laugh.
Spencer explained how her early interest in medicine led her to purse a B.A. in Natural Sciences at the University of Pennsylvania, where she also played on the women's tennis team.
While a student at Harvard Medical School, her beloved grandmother fell ill with heart disease. "I was pretty keen to get into a field where I could treat patients with heart disease," she said.
After completing an internship and residency at Massachusetts General Hospital, she studied nuclear medicine during her cardiology fellowship at the University of Virginia.
"Nuclear cardiology just fascinated me because of the ability to use specialized isotopes to image the heart, which tied into my natural love for biology and physics," she said. This noninvasive tool "uses radioactive markers to take pictures of the blood flow in the heart, and so we're able to look at heart function, blood flow patterns and cardiac chamber sizes."
She uses the imaging to evaluate patients for such problems as coronary artery disease, heart failure, coronary blockages, valve disease and congenital heart conditions. One common test is myocardial perfusion imaging, which allows a noninvasive look at the blood flow to the heart muscle.
"Her patients LOOOVE her," said Zakia Ofori, her medical assistant of 11 years. "She is very compassionate, loves her patients, will go above and beyond to make sure that they are taken care of. Not only to the patients, but to her staff. That's just who she is: She has a heart of gold."
In addition, "she is just a genius when it comes to this nuclear part. She is very meticulous and very focused and careful in what she does."
Recently, Dr. Spencer diagnosed a patient with a rare genetic cardiomyopathy, then diagnosed a sister; after evaluating all the siblings in this family. "They were actually seeing other cardiologists, but the diagnosis never came up," said Spencer. "That was a big deal, because that heart condition is life threatening and required a defibrillator, and we got her sisters diagnosed for the condition as well."
"I love patient care. I can't imagine that there's anything else that I could have done that would be more rewarding," she added with a smile. "I just love the art of medicine, which is NOT just being a doctor, BUT being able to listen and understand the whole patient and not just the disease."
VCU Health at Colonial Square is located at 2905 Boulevard, Colonial Heights, VA 23834. To schedule an appointment, please call 804-526-0682.
"Her patients LOOOVE her," said Zakia Ofori, her medical assistant of 11 years. "She is very compassionate, loves her patients, will go above and beyond to make sure that they are taken care of. Not only to the patients, but to her staff. That's just who she is: She has a heart of gold."
Clinical Interests
Echocardiography; Nuclear Cardiology